Editorial Note: This piece was co-authored by Patheos columnist Kyle Roberts and Adam Rao, who is Pastor of Teaching and Strategic Leadership at SafeHouse Church in Minneapolis, MN.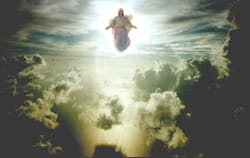 In the weeks leading up to May 21, Christians everywhere denounced Harold Camping's prediction that the world was coming to an imminent end. Many did so on the basis of Jesus' words in Mark 13, that "no one knows about that day or hour" except the Father. What remains troubling, however, is that many of those denouncements suggested that Camping was wrong about the date, but not necessarily wrong about the event itself. Maybe it's high time to reconsider the theology behind the very idea of the rapture. For some time, theologians (such as N.T. Wright and Jürgen Moltmann) have been pressing for a de-raptured eschatology to permeate the general Christian consciousness.
Rapture theology has captivated the contemporary public imagination. The most recent iteration was the popular Left Behind material. Prior to that, in 1970, Hal Lindsey's The Late, Great Planet Earth fascinated countless Christians. In contrast, contemporary evangelical theological scholarship found its voice, to some extent, as a counter to the sensationalist eschatologies of dispensational fundamentalism. George Eldon Ladd's influential work on New Testament eschatology moved evangelical theology away from a focus on literal fulfillment of end-times scenarios, especially literalistic readings of Revelation and "rapture" theologies connected to tribulation schemes. Yet within popular evangelicalism, fascination with the rapture continues to pervade preaching and teaching about the "end of the world." This is a problem.
Biblically, rapture theology finds its roots in 1 Thessalonians 4:15-17, with its language of being "caught up . . . in the clouds to meet the Lord in the air." N.T. Wright suggests, however, in Surprised by Hope,
When Paul speaks of "meeting" the Lord "in the air," the point is precisely not—as in the popular rapture theology—that the saved believers would then stay up in the air somewhere, away from earth. The point is that, having gone out to meet their returning Lord, they will escort him royally into his domain, that is, back to the place they have come from. (p. 133)
Moreover, while rapture theology retains the apocalyptic vision of the New Testament, it does so in precisely the opposite direction of the biblical authors (see Moltmann's The Coming of God, p. 159). Rather than seeing the apocalyptic as a reason to resist evil, rapture theology suggests that Christians are meant to escape this world and that the destiny of this world is destruction. In such a view, Christians will be swept off the face of the planet, leaving it to the devices of evil and the horrors of tribulation.
The biblical witness suggests exactly the opposite, that Jesus is already king and that his kingdom has already made inroads into this world, which will one day be ratified and confirmed (at his Second Coming). Tribulation is a past and present reality, and the church is called to endure it on behalf of the world and to stand up against it through the power of the Spirit. Rapture theology, in which Jesus will take his people away and leave the world to the devices and whims of evil, runs counter to the good news that the kingdom of God has already come in Christ (e.g., Mk. 1:14-15).
In contrast to rapture theology, a biblical eschatology:
1) Affirms the inherent value of the earth and motivates care for creation. Rapture theology suggests that we are "just passing through" this temporary dwelling place. Eventually we will escape this world and find our final home in an ethereal realm, a "heaven" filled with mansions and streets of gold. Again N.T. Wright helps to re-frame our expectations. God's plan is for "a new heaven and a new earth" (Rev. 21:1), what Wright calls "life after life after death" (pp. 148ff). Since the goal is the re-creation and redemption of this world, we have motivation to care for and cultivate it now.
2) Offers a compelling vision for resistance against evil, injustice, and all forms of oppression in the present world order. Rapture theology generates an "escapist" mentality whereby our best hope for dealing with injustice, wickedness, and hopelessness is to simply fly off to a perfect spiritual world unhampered by sin and finitude. Most harmfully, rapture theology sees injustice, oppression, and even natural disasters as predictive signs of the end of this life for Christians, rather than as the evil and discord they really are.
5/23/2011 4:00:00 AM