And the Lord said to Satan, "Have you considered my servant Job, that there is none like him on the earth, a blameless and upright man, who fears God and turns away from evil?" (Job 1:8)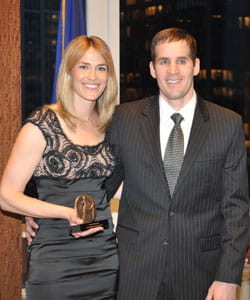 Scott and his wife Tiffany, as Captain Smiley recently received the 2011 Christopher Leadership Award.
Scott Smiley had his life mapped out. He'd get a great education at West Point, serve his country for a few years, and then go into business. It was not a bad plan, but as the old saying goes, even a good plan rarely survives its first contact with the enemy.
Scott was a junior at West Point on September 11, 2001, and it soon became clear that his "few years" of service would happen during wartime. He graduated, was commissioned as a Second Lieutenant, married a beautiful woman, and in 2004 deployed to Mosul, Iraq, where he led a platoon of young soldiers in the fight of their lives.
Responsible for protecting the city hall, Captain Smiley's unit endured suicide bombings, car bombs, mortar attacks, and small arms fire. They fought insurgents, protected civilians, and made incremental progress. But progress came at a high cost. Lieutenant Smiley lost his company commander in a mess hall suicide bombing, and watched as his friends and fellow soldiers were evacuated with serious injuries.
By God's grace, Scott was unharmed.
Then Satan answered the Lord and said, "Does Job fear God for no reason? Have you not put a hedge around him and his house and all that he has, on every side? . . . But stretch out your hand and touch his bone and his flesh, and he will curse you to your face." (Job 1:9, 10a, 2:5)
It was April 6, 2005, when Scott's platoon, acting on specific intelligence, spotted a car that matched the description of a suspected car bomber. Following proper procedures, Scott and his men cordoned off the area to protect civilians and approached the car cautiously.
There was a man in the car.
Scott yelled for him to get out. The man held his hands up for a moment, but then he appeared to let his foot off the brake. The car began to roll.
Scott fired warning shots—then the world went black.
"I loathe my life; I will give free utterance to my complaint; I will speak in the bitterness of my soul. I will say to God, Do not condemn me; let me know why you contend against me. Does it seem good to you to oppress, to despise the work of your hands and favor the designs of the wicked?" (Job 10:1-3)
When Scott finally awoke, two weeks had passed and the world was still black. The bomb had sent shrapnel into his brain. He was blind, temporarily paralyzed, and terrified. As he realized that he would never see again, the fear began to take hold. Would his wife still love him? Would his men still care about him? How could he live this life?
But the fear slowly changed into something else—anger. Scott was angry with his wife. Even though she was there for him. Even though she loved him deeply. He was also angry with God. He refused to accept the life he was given. Anger and fear began to dominate his mind and heart. He had no idea what he would do. All he knew was that the life he had always known was over.
Soon, he would be found "unfit for duty." After all, who's ever heard of a blind officer? Soon, he would be out of the Army that he loved. And then? The great unknown.
Then the Lord answered Job out of the whirlwind and said: "Who is this that darkens counsel by words without knowledge? . . . Where were you when I laid the foundation of the earth? Tell me, if you have understanding. Who determined its measurements—surely you know!"
Then Job answered the Lord and said: "I know that you can do all things, and that no purpose of yours can be thwarted . . . I had heard of you by the hearing of the ear, but now my eye sees you; therefore I despise myself, and repent in dust and ashes." (Job 38:1-4, 42:1-2, 6)
In the dark night of his soul, Scott Smiley turned to God and prayed. He did not pray for vengeance or for a different life. He prayed for forgiveness. He asked God to forgive him for his anger with his wife. He asked God to forgive him for not accepting the life he'd been given. For giving up hope.
That was the turning point. That was the moment that Scott began to put his life back together, to realize that his service to his country was not finished. And God opened doors. Working with friends and supporters in high places (including a three-star general), Scott was able to overcome the initial finding that he was unfit for duty. He became the United States Army's first active-duty blind officer, a leader of soldiers and a living symbol to his wounded brothers that they still had much for which to live—and much to give to others.
6/1/2011 4:00:00 AM