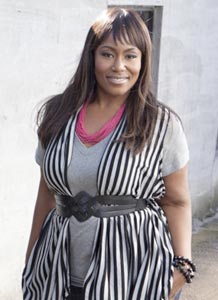 It's the rare singer on "American Idol" who ever got an apology from Simon Cowell after he made a snarky comment about them, but that's what happened with Season 5 contestant Mandisa. Simon typically directs his insults to the performers' singing abilities, but this time Simon targeted Mandisa for being overweight. He later apologized on air, and Mandisa accepted because of Jesus' command to forgive those who hurt us.
Since then, Mandisa has become a Grammy and Dove Award-nominated pop and gospel singer who just released her fourth album, "What If We Were Real," which produced her first #1 hit ("Stronger") on the U.S. and U.K. Christian music charts. But even more importantly, the album's release coincided with the goal Mandisa had set for herself to lose 100 pounds after a lifelong struggle with being overweight.
Mandisa joined me recently on Christopher Closeup to discuss God's role in her weight loss struggle and the role that suffering has played in her spiritual growth.
People wouldn't automatically assume that God could help them in their journey to lose weight. How and why did you invite God into that aspect of your life?
I realized that to lose weight, you have to eat right and exercise. For me—because I believe it's a food addiction in my case—I knew I had to tap into something that was much more important than just the physical side of it. I've come to learn that I was trying to fill a void with food that could really only be filled by God. I had to invite Him in and depend on His power to get me through that because, on my own, my flesh would win out every single time.
We're talking about being overweight, but there's another problem for young girls in this country thinking they have to be a size zero because of the pictures they see in magazines, movies, and TV. When it comes to body image, what do you think is the most important concept to keep in mind?
Women and girls...are [shown] images of what beauty is. We are subconsciously told that unless we measure up to those magazines, that we're not beautiful. I very strongly disagree, and I'm thankful that God began showing me that...He showed me that my identity doesn't come from that reflection in the mirror, that it comes from what He lays out in Scripture in 1 Peter 3. It talks about the unfading beauty that comes from the inside, a gentle and a quiet spirit which is of great worth in God's sight. Having lost over 100 pounds, I know that it is about so much more than my physical appearance. It's about obedience, it's about trying to honor God with my body, and it's about health. I've tried to make this journey about so much more than just a number on a scale. I've tried to make it about what's good for me—mind, soul, and body.
Listening to the song "Stronger" and other songs on "What If We Were Real" reminded me of something the actress Patricia Heaton said on this show last year about confronting tough times. "The life of a Christian," she said, "doesn't guarantee sunshine and lollipops." And I think that's the impression some people have of Christianity: that if you accept Jesus, all your troubles will disappear. But it's not that simple. How has centering your life in Christ helped you better deal with the hardships we all encounter?
I think so often as Christians, we feel like we have to put on our brave face and show the world how wonderful everything is. The fact of the matter is, we're not promised that everything is going to be wonderful. We're actually promised the exact opposite. We're promised that in this world, we will have troubles. But the solution to that is not the absence of troubles. The solution is that we have the opportunity to walk out of those troubles with the Lord.
It's not to say that we're perfect. It's to say that we're to bring our imperfections to Him, the only one who truly is perfect, and that He'll help us to walk those things out. "Stronger" recognizes that we're going to have difficult times, but it also recognizes what we can get out of those difficult times. One of my New Year's resolutions is to memorize a new passage of Scripture every month, and my passage for January was 1 Peter 5:6-11. Verse 10 says, "And the God of all grace who called you to His eternal glory in Christ, after you have suffered a little while, will Himself restore you and make you strong, firm and steadfast."
6/24/2011 4:00:00 AM