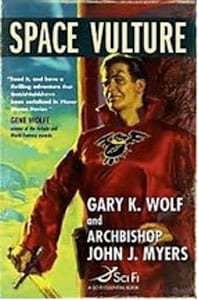 Space Vulture
by Gary K. Wolf and Archbishop John J. Meyers
336 pages
Tor Books; 1st edition (March 4, 2008)
My fondest youthful summer reading memories include exploring the science fiction shelf at the local library. Ray Bradbury, Isaac Asimov, Robert Heinlein, and Poul Anderson fueled my imagination with adventure, excitement, and fun. Years before me, Gary Wolf and John Meyers shared a similar love of reading in their tiny farm town of Earlville, Illinois. One book in particular gripped their imaginations and hooked them on science fiction—a pulp, science fiction adventure with purple prose titled Space Hawk.
Many years later, Gary K. Wolf is now a science fiction author, perhaps best known for his series of comedic mysteries about Roger Rabbit, featuring "toons"—cartoons come to life. John J. Meyers is now the Archbishop of Newark. The two friends, lamenting the lack of old-style science fiction, collaborated on a novel in the style of their beloved Space Hawk.
The result was Space Vulture, a classic space opera to delight the lightest of summer readers while containing hidden depths.
Heroic Victor Corsaire is on the trail of rascally con man Gil Terry. Gil is stealing valuable mushrooms on a colony world off the beaten track, in order to pay off a gambling debt. Galactic Marshal Corsaire swoops down in his spaceship, Integrity, to arrest him. Taking Gil to the local authorities of the nearby small town, Corsaire meets planet administrator Cali Russell. She's a spunky and beautiful widow with two young sons. Before either can do much except trade verbal barbs, unexpected trouble arises.
A thunderous crack ripped through the air.
Gil looked into the sky. He trembled at what he saw. A Star Class vessel, the biggest fighting ship made, was on a steep downward dive, headed straight for the town. The ship was painted to resemble an attacking bird of prey. Gil had never seen this ship, but he knew it by reputation. It was the Talon. It belongs to the infamous Space Vulture, ruthless scourge of outer space, curse of the universe.
There was not much one man could do against an attacking Star Class vessel. That didn't stop Corsaire from trying. He drew his twin ray guns and fired them at the approaching ship. He might as well have been plinking at the vessel with peashooters.
A high-density ion beam swept across the town.
Every robot within its path short-circuited and melted.
Here we go again, thought Gil as he, along with Corsaire and the town's entire population, passed out.
Pirate villain Space Vulture, on the track of his arch-nemesis, Victor Corsaire, takes the entire town captive to sell to the slave markets. With Corsaire eliminated, Space Vulture will be uncontested in plundering the galaxy. As his trademark, he leaves behind one survivor who can testify to the horror of Space Vulture's fiendishness. That person is Gil Terry.
Neither Space Vulture nor Gil Terry realizes that Cali's sons also escaped and stowed away on Gil's space ship to rescue their mother. Gil has different plans, naturally. Although not a naturally fatherly sort, he can't resist trying to train both for a life of crime. This doesn't stop him, however, from looking for the nearest place to abandon them.
Meanwhile, Cali must fend off Space Vulture's advances and find a way to rescue her children from their fate, as she believes, of being abandoned on their home planet. Corsaire must avoid being sold at auction, fulfill his promise to Cali to save her children, and defeat the most intelligent villain the Universe has ever known.
We're off to a rollicking good time as one cliché leads to another and the adventure jumps from one cliffhanger to the next. Zombified followers, lizard warriors, abandoned alien worlds, giant robots, space battles, slave markets, and ray guns abound. No time is wasted on speculations about future science, man's place in the universe, or the meaning of life. This is unexpectedly refreshing and makes us realize just how long it has been since someone simply told a story to delight the readers.
6/22/2011 4:00:00 AM