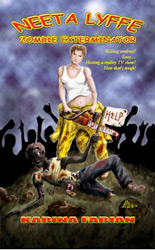 Neeta Lyffe, Zombie Exterminator
by Karina Fabian
This delightful romp uses zombies for fun rather than terror. Zombie exterminator Neeta Lyffe's economic problems force her participation in a television reality show in which she trains contestants in her trade. The winner will win a million dollars and the others, should they survive, will have been trained in a useful occupation. Neeta loathes the circumstances that made her agree to the series but is determined that each person will be properly trained. This puts her into direct opposition with the show's producer whose only desire is to exploit visual thrills and emotion to titillate viewers.
Karina Fabian is really an imaginative writer. Zombies are repelled by common household cleaners. They have some dregs of habit left when they rise from the grave, which makes them inclined to "visit" their loved ones or drawn to cultural icons they used to frequent. This is an amusing twist, which Fabian exploits for full comic or adventure value as needed. I became invested enough in Neeta to worry that she might be dating the wrong person and about who might die in the ending climax. It is a quick read; perfect summer reading.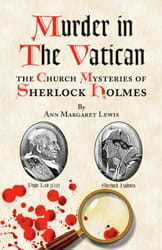 Murder in the Vatican: The Church Mysteries of Sherlock Holmes
by Ann Margaret Lewis
Offhand references from Arthur Conan Doyle's Sherlock Holmes stories involving the pope or other religious figures prompted Ann Margaret Lewis to begin writing the three novellas that became Murder in the Vatican.
The Case of Cardinal Tosca tells how Sherlock Holmes investigates the mysterious death of a member of Pope Leo XIII's curia. The Vatican Cameos, told by Pope Leo himself, has Holmes helping recover a rare collection of ancient Roman cameos that has vanished en route to Queen Victoria. Finally, The Second Coptic Patriarch features G.K. Chesterton's beloved Father Brown, who is imprisoned for the murder of a Coptic clerk. Brown's ex-criminal friend Flambeau seeks Holmes' aid to set him free.
The mysteries themselves are engrossing. All of the tales used devices of the eras depicted and I found myself drawn in, but never managing to guess the solutions. I appreciated Lewis's careful delineation between Watson and Holmes as nonbelievers versus Pope Leo who is featured in the first two stories. Each side acknowledges the other's religious orientation and is able to deal with each other respectfully without feeling a need to mock or challenge.
This book is a light-hearted tribute to both the Sherlock Holmes stories and the impact that real Christians can make through example, even on hardened cases like Holmes. Ann Margaret Lewis said the stories are "meant to be fun and lift your heart for a short time. I had a blast writing it, and I hope you have a blast reading it." Indeed I did.
Infinite Space, Infinite God II
edited by Karina and Robert Fabian
This science fiction anthology focuses on individuals and their struggles, using Catholicism as the lens through which they are viewed. Non-Catholics would also enjoy this collection because the overall motif—general science fiction—contains faith matters, but with a subtle emphasis. No matter what one believes, there is something interesting to be found in practically every one of these tales. They are imaginative and, although some are light-hearted, all point toward serious issues, as is the case with the best science fiction. I especially enjoyed the way that each of them featured the Church, which has adapted to the future but which never ignores or betrays her mission.
My favorite stories included "The Ghosts of Kourion," a bittersweet tale of time travel. Antivenin takes the "Snakes on a Plane" concept and puts it in outer space, for riveting adventure. Dyads takes us to an alien culture where the religion is a brilliant translation of the Catholic faith into something that is equally alien but equally true, revealed by God. I was fascinated by the conundrums faced by the two faiths in resolving the problem presented by a terrorist. I can't say nearly as much as I would like about these stories without giving away plots but they equal anything found in other science fiction anthologies.
Happy Reading!
6/8/2011 4:00:00 AM