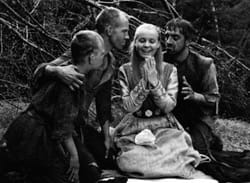 It has often been noted that artists are rarely the best judges of their own works.
When enigmatic Swedish director Ingmar Bergman was asked to identify what it was that had made The Virgin Spring (Jungfrukällan) such an artistic success, his response was surprisingly unflattering. Startlingly critical of his once-beloved creation, he decried its "totally unanalyzed idea of God," admitting that "today, I find it all dreadfully triste"—an opinion that says much about Bergman's relentless search for cinematic perfection, but one that we are not required to share.
Based on the "blackly brutal" Nordic ballad "Töres dotter i Wänge," Bergman's film tells the story of Töre, a wealthy Christian nobleman whose life is shattered by a violent and devastating crime. When his daughter Karin—a spoiled yet endearing innocent—is dispatched to the local shrine bearing candles for the upcoming holy day, her father sees no reason to accompany her. Attended only by her vindictive stepsister Ingeri, whose frequent imprecations to the pagan deity Odin suggest that Töre's household is far less churched than he realizes, Karin's cheerful journey quickly turns sinister.
A bitter argument over Ingeri's unwelcome pregnancy finds Karin abandoned on the lonely roadway, and she is quickly accosted by a trio of menacing goatherds. Blinded to the obvious dangers of the situation by her stunning naiveté, Karin warmly invites the three uncouth peasants to share her lunch, but their leering attentions prove distasteful. Growing in fear, the guileless maiden lets slip her knowledge of the herd's original owner, unintentionally exposing her lunch companions as thieves. Terrified by this recognition and what it might mean in a world governed by medieval justice, the three miscreants assure Karin's silence by brutally assaulting and murdering her.
With darkness fast approaching, the goatherds clumsily conceal their crime and start out in search of shelter for the night. Chance (or perhaps a vengeful Providence) brings them to the home of the unknowing Töre, who welcomes his daughter's defilers in to escape the punishing cold. The three attempt to sell Karin's hand-woven cloak to her mother, Märeta, who instantly recognizes it, and slips away in confusion. A repentant Ingeri returns home to recount how she had witnessed her stepsister's assault and death from a hidden vantage point, and the villains' demise is assured.
Overwhelmed with sorrow at the loss of his darling Karin, Töre visits a harsh justice upon his daughter's attackers—one as swift and brutal as their own actions against his daughter. Yet the deaths of the three bring him no peace, only the burden of guilt. Tranquility, that priceless commodity which he had hoped to attain through his violent reprisals, eludes him as he searches the woods for the corpse of his beloved Karin. When at last he finds peace, it arrives from an unexpected and miraculous source, helping Töre to find meaning in his suffering, and uniting his once broken family through the sacrifice of their beloved Karin.
Critics often focus their attentions on the shocking brutality of this film; both Karin's assault and death and Töre's revenge are wrenching depictions that produced a fair amount of controversy in 1960 and had some pegging The Virgin Spring as a masterfully crafted but darkly medieval trifle about violence and revenge. When horror icon Wes Craven chose it as the inspiration for his exploitation film The Last House on the Left, he seemed to put an exclamation point to that misconception, which misses the film's central point entirely; at its core, The Virgin Spring speaks of the diametric opposite of horror and revenge: resignation.
As a tormented Töre struggles to cope with the injustice of his daughter's violent and undeserved death, he calls out to Heaven in anguish: "You saw it. God, you saw it. The death of an innocent child, and my vengeance. You allowed it to happen. I don't understand you. I don't understand you. Yet still I ask your forgiveness." The harsh path of retribution and bloodlust that he had instinctively sought in his darkest hour—customs ingrained in him by generations of Swedish noblemen unwilling to part entirely with their pagan roots—has left him broken and emotionally naked, crying out to God in his despair; the once-proud landowner brought low by his own actions in a way that the tragedy of Karin's death alone could not possibly have achieved.
At last, recognizing that vengeance will never truly be his and that his daughter's dreadful, inexplicable death cannot be escaped, Töre abandons himself to God's mercy; he promises to build a chapel at the scene of Karin's death, in atonement both for the violence done by her attackers and that done by her father: "I do not know of any other way to reconcile myself with my own hands. I do not know of any other way to live." It is at that very moment of surrender that God makes His stunning entry, rewarding the sorrowful nobleman's resignation with such unexpected and unmistakable clarity that the connection between Töre's actions and his salvation cannot possibly be misunderstood.
6/9/2011 4:00:00 AM