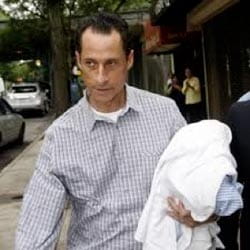 You can count me among the thousands—if not millions—of Americans who are quietly grateful that the sad saga of Rep. Anthony Weiner has finally started to peter out.
Weiner, you see, is my congressman. He's also my neighbor. His apartment sits just a few blocks from my own, on the other side of Queens Boulevard, on a leafy street in Forest Hills Gardens known for its elegant Tudor homes with seven figure price tags—price tags that may have to be rewritten now that satellite trucks, cables, light, and bored field producers are part of the landscape. Our bucolic corner of Queens has become the set of a soap opera.
I'm sure I'm not the only one wondering: What will Weinergate do to the resale value on my apartment?
Actually, this area has had its share of notoriety before. Decades ago, it earned the scorn of the world for the horrific murder of Kitty Genovese, a young woman who suffered a violent death while her neighbors ignored her cries for help. (It happened near a train station about a half a mile from Weiner's front door.) More recently, the neighborhood has produced television stars; Ray Romano attended our church, along with Pia Zadora and David Caruso. Bob Keeshan—better known as Captain Kangaroo—attended our parish school. Geraldine Ferraro was a parishioner. Carol Channing lived nearby. Part of the first Spider Man movie was filmed in Forest Hills, too, and you can still see shots of the neighborhood in the opening credits of "King of Queens." If they wanted to, enterprising gawkers could sell Maps of the Stars on Austin Street.
But Weinergate may have changed everything. Suddenly, a lot of us in the area are uncomfortably aware that some of the nice folks who sweep their sidewalks and water the azaleas and smile sweetly at the deli counter in Key Food may have a secret penchant for artless photography on the office BlackBerry. Anthony Weiner, after all, looks normal enough, doesn't he? You wouldn't run screaming if you saw him on the street. (Okay, maybe now you would. But last month? Probably not.) But now . . . you just have to wonder.
I guess there are a lot of lessons in Weiner's Woes—about pride, and arrogance, and sheer stupidity. Around the neighborhood, too, we're being reminded that we may not always be what we seem, and that ivy-covered brick walls can cover some pretty kinky stuff.
We all have things we'd prefer to keep hidden (and, maybe, should keep hidden.) It's been this way, of course, since the dawn of time, when fig leaves were first found to be convenient fashion accessories. But nowadays scandal can lurk anywhere, and I'm starting to think that no one has any shame. My congressman thought nothing of proudly going to pick up his clothes from the dry cleaners—accompanied by a flotilla of journalists, of course—hours after the world had seen what, exactly, those clothes were covering. He smiled impishly through it all. Just another Saturday in Queens.
For New Yorkers, the sense of scandalous déjà vu is especially sharp. I remember a weird moment at the T-Bone Diner on Queens Boulevard a few days back, as the Weiner story was unfolding. I was having dinner, and the woman at the next booth was transfixed by the television screen on the wall, which was showing CNN and the latest breaking news about the scandal. "Excuse me," she said, waving her napkin at me, "but can you believe that? Can you BELIEVE THAT?" She was gesturing angrily at the TV. "Anthony Weiner? And who is reporting all this? ELIOT SPITZER? ELIOT SPITZER talking about ANTHONY WEINER? WHAT'S GOING ON HERE?"
We've all been asking that question lately, haven't we?
Well, here in my corner of Queens, we're all looking forward to life returning to something resembling normal. It will be nice to laugh at some other neighborhood's embarrassments for a while. I'm even feeling nostalgic about it all. Remember the pre-Weiner days, when everybody was shaking their heads in disbelief over Hollywood's Schwarzenegger and yucking it up about Alaska's Palin and Paul Revere?
To quote a famous TV show set in Queens: those were the days.
6/14/2011 4:00:00 AM