Lord, what do you have for me today? Help me not to miss your blessing.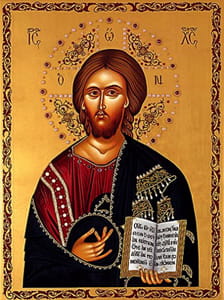 That's a simple prayer born of my many conversations with God. I am both a seeker and a finder of God, after many years of practice on my end in this ongoing relationship. Perhaps, it might be more accurate to say, my finding of him comes from his Providence; his blessings have soothed my restless heart with his presence and his peace.
Seeking him was not so much my own idea; the desire originated with God, for his love of me predates any movement of mine toward him. But I did not really know this for a long time. That's because God gave me human freedom to choose to respond of my own accord.
I now understand my longing for relationship with God was merely my long overdue response to his first generous invitation that began with my infant baptism. My baptism was the profound starting place of my formal sacramental encounters with Him.
Yet even before my baptism, God was in search of me, knowing me from within my mother's womb.
You formed my inmost being; you knit me in my mother's womb . . .
My very self you knew . . . When I was being made in secret . . .
Your eyes foresaw my actions; in your book all are written down;
my days were shaped, before one came to be (Psalm 139:13-16).
God courteously waited for me to catch up -- to learn to live within the blessing that seekers are destined to find in him, for he wishes to be found.
I have made mistakes in this friendship. But the remarkable elasticity of his grace has sustained it and me.
My prayer journals have collected many prayers from Sacred Scripture, from the saints, and from my own heart. Sometimes I have written or printed out certain prayers to carry with me. One very worn-out piece of paper contains these words accredited to St. Anselm, the 12th-century Archbishop of Canterbury and a Doctor of the Church.
O Lord my God.
Teach my heart this day
where and how to find you.
You have made me and re-made me,
and you have bestowed on me
all the good things I possess,
and still I do not know you.
I have not yet done
that for which I was made.

Teach me to seek you,
for I cannot seek you
unless you teach me,
or find you
unless you show yourself to me.
Let me seek you in my desire;
let me desire you in my seeking.
Let me find you by loving you;
let me love you when I find you.
It comforts me to know that even saints were seekers once, learning to respond to God's many overtures of grace.
The Catechism of the Catholic Church teaches that we are hard-wired for God. That God is our origin, our motive, and our object.
The desire for God is written in the human heart, because man is created by God and for God; and God never ceases to draw man to himself. Only in God will he find the truth and happiness he never stops searching for:
"The dignity of man rests above all on the fact that he is called to communion with God. This invitation to converse with God is addressed to man as soon as he comes into being. For if man exists it is because God has created him through love, and through love continues to hold him in existence. He cannot live fully according to truth unless he freely acknowledges that love and entrusts himself to his creator [Vatican Council II, Gaudium et Spes, GS 19 § 1]."
(Catechism of the Catholic Church, par. 27)
The Mass readings for this Sunday are chock-full of details on the benefits of seeking this God who wishes to be found.
In the first reading, there is Solomon, the young son of King David. Feeling ill-equipped to lead God's chosen people, Solomon encounters God in a dream and speaks quite plainly about his need.
The LORD appeared to Solomon in a dream at night. God said, "Ask something of me and I will give it to you."
Solomon answered: "O LORD, my God, you have made me, your servant, king
to succeed my father David; but I am a mere youth, not knowing at all how to act . . . Give your servant, therefore, an understanding heart to judge your people and to distinguish right from wrong . . ."
7/20/2011 4:00:00 AM