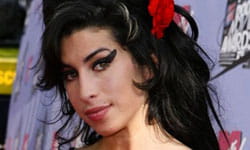 "I miss Amy Winehouse," wrote Dvora Meyers in Tablet—back in April, when Winehouse was still on the good side of the grave. To Meyers, Winehouse, who died July 23, served as counterpoint and antidote to a glut of goody-goody Jewish female celebrities, among them Natalie Portman, Miss America candidate Loren Galler Rabinowitz, and the partly Jewish but wholly correct Gwyneth Paltrow. She managed by embodying a Jewish personality that has not, according to Meyers, received its share of daylight: that of man-eater and soiled dove:
[Winehouse] spoke not of love and romance, as her predecessors did, but of addictions, sex, and every Jewish girl's favorite emotion: guilt. In her famously adenoidal voice, she sings about the men she will cheat on, those she will use up, and the ones she intends to spit out. Her songs and tone drip with regret, but also the inevitability of her bad behavior. Any astute listener knows that she's not going to change. In fact, we hope she doesn't.
This is a new front in an old struggle. Back in the 1970s, in an essay for The New York Review of Books, Philip Roth wrote, "In brief, going wild in public is the last thing a Jew is expected to do." He was speaking from the vanguard of a revolution aimed at liberating American Jews from the relatively new, home-grown stereotype of Jews as moral supermen. This flattering—and, Roth believed, limiting—image was essentially defensive, having been developed to replace the older, negative stereotype of Jews as remorseless rakes. He wrote wistfully that Chicago, as Saul Bellow describes it in Adventures of Augie March, is "a place where being Jewish makes of a boy nothing more special in the Virtue Department than any other immigrant mother's child."
Leaving aside controversies concerning Israel—which, hopefully, isn't too much like asking Mrs. Lincoln how she enjoyed the play in general—Roth's revolution appears to have succeeded. Considered as a whole, the Western public doesn't seem to expect Jews to be any more virtuous, or any less virtuous, than anyone else. This spring, when Anthony Weiner and Dominique Strauss-Kahn stood accused of various forms of caddishness, no one in the media seems to have found confirmation or refutation of any Jewish stereotypes. In America, well sensitized by now to everything concerning ethnicity and religion, this is to be expected. For being true in Strauss-Kahn's native France, land of l'affaire Dreyfus and the Vel d'Hiv raid, it is far more remarkable.
On the other hand, Jewish writers writing for Jewish readers had a thing or two to say on the subject. In his Washington Times blog, Eric Golub roasted Weiner for one of his "sext" messages, in which he hinted that most Jewish women were sexually unadventurous. Golub went on to blame this persistent, inaccurate belief, that Jewish women are "prudes," for the frequency with which Jewish men date and marry outside their religion.
Surely his reasoning is reductive. The Otherness of the Other exerts a magnetic pull all its own. (Take my own Jewish father: if passion had been his only goal, and stereotype his only guide, he'd never have taken up with my Irish mother.) Nevertheless, most of the Jewish trailblazers in sex, drugs, and rock and roll—Philip Roth, Norman Mailer, Abbie Hoffman, Al Goldstein, Howard Stern—were men. None of their female counterparts has quite managed to crack the mold for the generations.
By the numbers: Gina Gershon is too obscure. Lisa Bonet is too dusky. Roseanne Barr is too easily confused with her best-known TV character, Roseanne Conner, who is probably meant to be the descendant of Ulster Protestants. Sara Silverman comes close, but somehow, her stage persona does less to buck stereotypes about Jews than it does to confirm stereotypes about Generation X. Golub cites Monica Lewinsky as living proof of Jewish sensuality, but she has always seemed to me more victim than vamp. Whatever she did with Schmucko, she did for love.
This, I suspect, is the real appeal of Amy Winehouse for Dvora Meyers. It's not that her boozing, drug abuse, and public scuffling flew in the face of any recent trend; it challenges much older norms in ways they'd never been challenged. Meyers might be tempted to eat her statement about hoping Winehouse never changes. Or not. The untimely death of a talented person is never a happy occasion, but over time, at least, it can make a good legend. Examiners still have yet to determine why Winehouse died at 27, but one suspects the reason would not fit well into the plot of Marjorie Morningstar. If ever a subset of Jewish women yearned for its incandescent train wreck after the style of Janis Joplin (Dorothy Dandridge, Hank Williams, Sr., Elvis), it may soon have her.
7/31/2011 4:00:00 AM