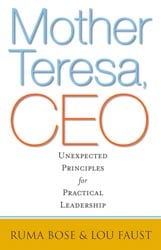 What organization, founded in 1948 by a passionate entrepreneur and twelve loyal team members, grew to become one of the largest enterprises in the world? Today it has operations in over 100 countries, includes over 1 million team members, has raised and deployed billions of dollars in capital, and is one of the most recognized brands in history.
Is it Hewlett-Packard? Coca-Cola? Disney?
No, it is the Missionaries of Charity. And Mother Teresa was its leader.
How did this nun with no formal business training create a global brand, become a powerful fund-raising and public relations magnet, and lead a worldwide organization through every phase of growth over the course of forty-seven years? What were her secrets?
When we shift our lens and view Mother Teresa from a leadership perspective, a wonderful success story emerges, one filled with inspiration, life lessons, and impact.
Ruma Bose spent time in Calcutta working as a volunteer with Mother Teresa and her Missionaries of Charity in 1992. Over time, she discovered that Mother Teresa's success resulted from the careful application of eight simple and unexpected principles. Through the pages of this book you will have the unique opportunity to learn these principles, share Bose's experience with Mother Teresa, and discover how to apply Mother Teresa's principles whether on a single project, throughout an organization, or in your life.
Modern, well-timed, and humane, Mother Teresa, CEO helps you discover how you don't have to be a saint to be a great leader!
About the Authors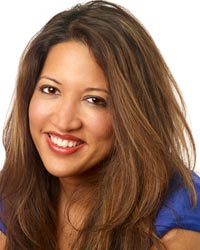 Ruma Bose is a serial entrepreneur, investor, philanthropist, and author. In 1992/1993, Ruma spent time in Calcutta working with Mother Teresa and the Missionaries of Charity.
Ruma is currently president and co-CEO of Sprayology, a homeopathic and vitamin wellness company. Previously, she worked as a venture capitalist, advisor, and executive at many early-stage companies in the consumer industry. She cofounded a national floor-finishing company in the janitorial services industry. She then moved to the beauty industry, where she advised several luxury brands and was president of a leading boutique cosmetics firm in New York City.
Ruma currently serves on the boards of SecretBuilders, an online children's edutainment firm. She is also an active philanthropist, advising many non-profits and serving on the boards of SEED NY, Kopernik and her Pow-Wow Foundation.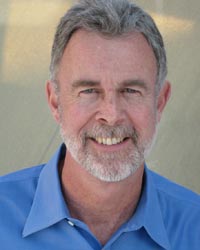 Lou Faust is a businessman and advisor with thirty years of corporate experience, including ten years on Wall Street with Salomon Brothers, where he was a managing director and head of global operations. He is the managing partner and founder of Edge Capital Partners, which provides strategic advice to emerging growth companies. He lives in Broomfield, Colorado.
BACK COVER ENDORSEMENTS
Praise for Mother Teresa, CEO
"I have always regarded Mother Teresa as one of my role models because she understood and demonstrated through her own being that real leadership comes from the soul. This exploration of Mother Teresa's deep well of compassion, dignity, empathy, and love is a profound meditation on what it means to be a real leader."
-Deepak Chopra, author of The Soul of Leadership
"Ruma Bose's and Lou Faust's perspective on the iconic Mother Teresa's unique leadership skills is nothing short of a revelation. Having started my career in the social services world, I found that some of the best business managers hail from that world, with Mother Teresa certainly a leading example. I found myself nodding and "uh-huhing" as I recognized the simple but powerful lessons that Mother Teresa's eight principles can teach us all. Simply extraordinary."
-Jim McCann, founder and CEO, 1-800-FLOWERS.COM and Celebrations.com
"Entrepreneurship isn't about starting a business; it's about creating a state of mind. Bose and Faust do a tremendous job of demonstrating Mother Teresa's entrepreneurial mind-set as she grew the Missionaries of Charity around the world. The eight leadership principles outlined in their book provide both inspiration and guidance to anyone passionate about and committed to building a global organization."
7/1/2011 4:00:00 AM