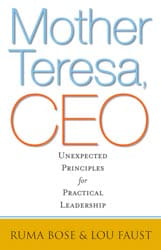 This month in the Pathoes Book Club, we're featuring the new book Mother Teresa, CEO: Unexpected Principles for Practical Leadership by Ruma Bose and Lou Faust. Read what people are saying about this new book on the "Eight Teresa Principles" for compassionate and effective leadership.
"I have always regarded Mother Teresa as one of my role models because she understood and demonstrated through her own being that real leadership comes from the soul. This exploration of Mother Teresa's deep well of compassion, dignity, empathy, and love is a profound meditation on what it means to be a real leader."
—Deepak Chopra, author of The Soul of Leadership
"Ruma Bose's and Lou Faust's perspective on the iconic Mother Teresa's unique leadership skills is nothing short of a revelation. Having started my career in the social services world, I found that some of the best business managers hail from that world, with Mother Teresa certainly a leading example. I found myself nodding and "uh-huhing" as I recognized the simple but powerful lessons that Mother Teresa's eight principles can teach us all. Simply extraordinary."
—Jim McCann, founder and CEO, 1-800-FLOWERS.COM and Celebrations.com
"Entrepreneurship isn't about starting a business; it's about creating a state of mind. Bose and Faust do a tremendous job of demonstrating Mother Teresa's entrepreneurial mind-set as she grew the Missionaries of Charity around the world. The eight leadership principles outlined in their book provide both inspiration and guidance to anyone passionate about and committed to building a global organization."
—Leonard A. Schlesinger, President, Babson College, and former Vice Chairman and Chief Operating Officer, Limited Brands
"This book is a wonderful addition to Mother Teresa's legacy. A fantastic journey that gave me insight into simple principles that can be profitably applied to any organization. Bose and Faust reveal a previously unrecognized facet of this extraordinary woman's life, one that provides lessons any leader can benefit from. Profound, engaging, and packed with insight. I couldn't recommend it more highly."
—Gloria Nelund, cofounder, Chair, and CEO, TriLinc Global, and former Head, Private Wealth Management Division for North America, Deutsche Bank
"Numerous articles and books have been written about Mother Teresa the humanitarian. Most of these have been focused on the impact she has had on millions of lives and not on her leadership skills that played an integral role in making her one of the most successful humanitarians of our generation. This book distills her journey into leadership principles that are easy to understand and emulate."
—William H. C. Chang, Chair, Westlake International Group, and owner, DC United and the San Francisco Giants
"Mother Teresa, CEO is an important contribution to the emerging paradigm of 21st-century leadership. Bose and Faust have captured the essence of her leadership success in a compelling read that gives each of us practical ideas for leading our organizations. If success is the scorecard, Mother Teresa's principles are a must-read!"
—William S. Thompson, former CEO, PIMCO
"Who would have thought an Albanian nun, based in the slums of Calcutta, would build one of the most recognized international organizations in the world. How did she do it? Bose and Faust write an inspiring yet practical book demonstrating the simple, profound principles that enabled Mother Teresa to build an organization that continues to do so much good in the world. A must-read for anyone interested in seeing the extraordinary possibilities one person can accomplish with vision, passion, and determination."
—Melanie Schnoll Begun, Managing Director, Morgan Stanley Smith Barney Philanthropic Services
"Mother Teresa inspired people throughout the world as a result of her work. She truly was an extraordinary person. This book looks at her work through the lens of her leadership for the very first time. The principles put forth by Bose and Faust provide leaders in any organization a framework for ethical and effective leadership in today's tumultuous environment. Read it. Apply the principles and you and your organization will be on your way to becoming extraordinary."
—Robert White, founder and CEO, Extraordinary People, and author of Living an Extraordinary Life
"All CEOs require leadership skills; however, remarkable CEOs see every roadblock as a business ramp. Bose and Faust have identified a woman who was able to exemplify these leadership principles on the global stage. A required addition to any library."
—Gary Schwartz, CEO, Impact Mobile, Inc.
7/1/2011 4:00:00 AM