This month in the Patheos Book Club, we're featuringRadical Together: Unleashing the People of God For the Purpose of God by David Platt. The book includes a Discussion Guide for small groups and leadership teams; an excerpt of thefirst session is below.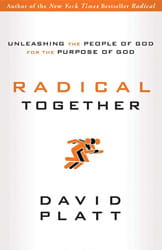 Session One: Prioritizing Kingdom Productivity
KEY IDEA: One of the worst enemies of Christians can be good things in the church.
We can easily deceive ourselves into thinking that dedication to church programs automatically equals devotion to kingdom purposes. We can fill our lives and our churches with good things that require our resources and good activities that demand our attention but are not ultimately best for the enjoyment of the gospel in our churches and the spread of the gospel in our communities. We must be willing to sacrifice good things in the church in order to experience the great things of God.
Scriptural Preparation
Read Philippians 3:4-16, a passage where Paul says that everything else is rubbish compared to knowing and conforming to Christ. His focus is laserlike: "One thing I do: Forgetting what is behind and straining toward what is ahead, I press on toward the goal to win the prize for which God has called me heavenward in Christ Jesus" (verses 13-14).
Then read Acts 20:22-24, where Paul describes how everything in his life is dedicated to one purpose: spreading the gospel to the ends of the earth. It is the only reason for which he has breath.
OPENING PRAYER: Pray for God to give your group laserlike focus on Christ and his purpose in the world. Ask God to give you new eyes to look at what you are doing in ministry, and ask him for a willing heart to put everything in your life and in the church on the table before him. Pray for him to reveal what he most wants you to spend your time and resources on.
Group Discussion
Talk about your answers to the following questions and any others you believe would be helpful for your group. You might want to have your church mission statement, church budget, or similar documents available to review.
Considering the structure and activities of your church (or ministry area), in what ways might these things foster religious activity that results in little spiritual productivity?
What specific facets of your church or ministry area (programs, preferences, practices, traditions, facilities, and so on) are most difficult for you personally to put on the table, and why? How do you think people in your church would answer this question?
If your heart were to beat for the lost and the poor the way that God's does, how would that change how you are living personally? How would that change what your group is doing in the church?
What are you currently giving your time, energy, and resources to in the church that may be good but not best? How can you reorganize your lives and leadership around what is best?
If you were going to start a church (or ministry area) from scratch today, how would you structure it? How would you allocate your resources? What would your goals be?
Idea Brainstorming
Using a dry-erase board or a flip chart, create a list of ideas from all group members in answer to these questions:
What good things in your church (or ministry) might you need to abolish or alter in order to accomplish greater things for the glory of God?
What greater things could you do for the glory of God with the time, energy, and resources you have in your church (or ministry)?
Remember, everything is on the table. So there's no need to evaluate ideas in any depth at this time. Just throw them out for consideration.
Your Response
Begin sorting through your ideas. Which ones spark broad interest within the group? Which ones can you get started on? If you do not have decision-making authority in your church, who might you talk to about them, and what might be some helpful and unifying ways to go about effecting these kinds of changes? Remember that people like change—until it affects them. So consider how best to shepherd the people you lead through any change you implement.
Create a list of three or more action steps. Identify who will do what and when. Plan for follow-up.
CLOSING PRAYER: Remember that we should never ask God to bless our plans but instead should ask God to help us fulfill his plans. So as you prepare to put into action what you think God is calling you to do, humbly invite him to shepherd you to do only what brings him glory. Continue praying to know his will better.
7/15/2011 4:00:00 AM