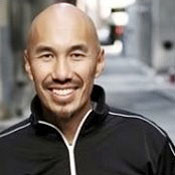 In Radical, David Platt's plea for Christians to take back their faith from the American Dream resonated with readers everywhere, and the book quickly became a New York Times bestseller. Now in Radical Together, the author broadens his call, challenging us to unite around a gospel-centered vision. This month in the Patheos Book Club, we're hosting a conversation on Platt's new book. Read what people are saying about this new book and join the conversation at the Book Club.
"I love this book! Please read it. God is using David Platt to lead his church into much- needed reform. Radical Together is filled with tremendous insight from a man who loves Christ's church. I don't know of a church leader that I trust more."
—Francis Chan, best-selling author of Crazy Love
"I have the privilege of knowingDavid Platt, and I assure you that his life and ministry commend what he has written here. Read Radical Together. Like the right medicine, it may be more helpful than comfortable. In fact, my prayer is that it may be an explosion, shifting many churches from centering wrongly on ourselves to centering rightly on Christ and his agenda for us—and for his world."
—Mark Dever, senior pastor, Capitol Hill Baptist Church, Washington DC
"Radical caused many Christians to be shaken and to reevaluate their lives. Radical Together will do the same for our churches. Radical Together is such a clarion call for churches across the world to follow the clear teachings of the Word that I began to pray that this book would indeed move thousands of churches to become biblically radical. Many churches and Christians will never be the same again after reading the book and following its biblical precepts."
—Thom S. Rainer, president and CEO, LifeWay Christian Resources, and coauthor of The Millennials and Simple Church
Read what other pastors and leaders are saying about Radical Together at the Patheos Book Club Blog here.
7/15/2011 4:00:00 AM