Editorial Note: This is an entry in a summer series entitled "Spiritual Lessons I Learned on Vacation."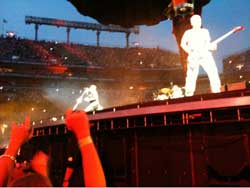 I was a late arriver to the world of U2. They'd been popular for decades before I realized that the band who wrote Still Haven't Found What I'm Looking For also wrote other great songs. When I lifted my head from whatever hole it had been stuck in (shall I blame rural life? raising kids? doing ministry?), I realized I loved much of their music.
U2 came to Washington, DC on the first leg of their 360 Tour in September 2009. My husband and I bought mezzanine seats and loved the concert. As the 360 suggests, the stage set-up includes a circular runway out into the crowd, which connects to the stage by moveable bridges. Thanks to the giant screens, I watched the fans adore Bono from beneath those bridges, their hands waving in the air.
When U2 added a Baltimore stop to the end of the tour, we decided to go again, but this time as real fans, General Admission. We arrived at the stadium three hours before the doors opened and joined a zigzag line that had begun the previous night. The sun beat down while we chatted with other fans. A few were our age, but most were the ages of our children. It didn't matter. They were all our new best friends.
"U2 fans are family," someone said, and there was a murmur of agreement. A guy selling beer made frequent stops. A whisky flask passed by with regularity. Even with all this good cheer, the wait was interminable. I shifted from side to side. When was the last time I stood in one place, in the sun, for this many hours? Now and then I changed places to wait for a stinky Porta Potty. I wondered why we didn't just buy mezzanine tickets like last time. Could the fan experience possibly be worth this? Why was I suffering for a man named Bono?
Eventually someone came to dispense the precious bright-green wristbands. According to the stamped number, we were within the first 500 people. The stadium holds more than 80,000. When the gates finally opened and we poured onto the field, I was incredulous that we could make our way around the circular runway, to the very edge of the stage. We were eye to eye with the security guy on the other side of the railing, so close we had to tilt our heads to see over the edge of the stage.
After the initial euphoria, there were two more hours of sunlight to endure, plus a warm-up band. A woman on my left asked me my name and said she was Bridget. Then she introduced me to her nieces, Irish beauties in their early teens with wavy brown hair and freckles.
Before I could even confirm the girls' names in the noise of the crowd, Bridget got serious. She pointed two fingers from my eyes to the girls' eyes. "Girls! This is Ruth. You got it? While I get snacks, she's here. You understand?"
I was taken aback, so I teased: "What, do I look like a mother?"
"Oh, I trust everybody at a U2 concert," Bridget said.
After she returned with French fries and water bottles, Bridget told me about her family. She had flown from Colorado for this concert, and the girls had flown from New York. The entire extended family was present, in various locations, which she pointed out around the stadium. Bridget said, "My family can't agree on a single thing. Not politics. Or religion. Or anything. But we all love U2. It's the one thing that unites us."
One of the nieces piped up, "U2 was playing when I was born." The other, not to be outdone, said, "I was conceived to U2." Their freckles glowed. Or that may simply have been the sun, setting behind them.
Bridget continued to expand our little circle, bringing in a young man on her other side and the people in front of us. She was a natural evangelist.
Maybe the church parallels are obnoxious, but I can't help them. I can't help wishing we had more people like Bridget, spilling passion and warmth. I can't help wishing our Presbyterian family could agree that, despite everything else, we all adore the band. And maybe that's enough.
At last the warm-up band, Florence & the Machine, played. Then, after a total of six hours of standing, it was time. The U2 band members took their places. Adam Clayton, the bass player, was directly in front of us. A few yards to his left, Bono grabbed the mike. Further back, Larry Mullen was barely visible behind his drum set. On the other side of the stage I could see The Edge's stocking cap.
7/29/2011 4:00:00 AM