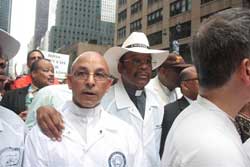 "Today, there is unprecedented unity in the body of Christ," Bishop Joseph Mattera declared before a crowd of several thousand gathered in Manhattan on Sunday. He acted as emcee for a rally and march hosted by the National Organization for Marriage, in conjunction with congregations across the city, which began outside Governor Cuomo's offices on Third Avenue and concluded near the United Nations building. Mattera maintains that same-sex marriage had only passed the legislature due to fateful ineptitude on the part of New York's churches, and he hoped that Sunday—the day such marriages started being performed across the state—would also be remembered as the day "a sleeping giant awakened."
"It is a known fact that there are twelve to fifteen thousand churches in New York," Mattera said. "Evangelical churches. Even though we have that number, we were only able to mobilize about five hundred pastors since March."
Division and disharmony among Christians, he asserted, is what destroyed traditional marriage. Cognizant of putting forth an image of love and hospitality, before the rally began, Mattera announced that any anti-gay literature or signage would be confiscated. "We are not here to push a religious agenda," he said, also making sure to denounce the Westboro Baptist Church, which had joined the proceedings uninvited.
The rally was entirely bilingual, and most of the attendees, who were bussed in from the outer boroughs, were Hispanic. Some said they had heard about the rally through Radio Vision Cristiana, one of the largest Spanish-speaking stations in the New York area. Sen. Ruben Diaz, the legislature's most vociferous opponent of same-sex marriage, appears regularly on the station. He was there Sunday as well, marching at the front of the pack, donning an "I [heart] Jesus" cowboy hat, and flacked by several large men who would not let media approach him for questions.
Given that attendees had been instructed to chant "Let the People Vote," I asked some of the clerical leadership what their recourse would be if, as polls now suggest is probable, a majority of New Yorkers voted to maintain the legality of same-sex marriage. One woman holding the official "Let the People Vote" banner at the front of the march, who identified herself as only Miss Delgado—"one of the ministers," she said—disputed the methodology of such polls. "Who did they actually survey, you know? To me, that's very questionable."
"If you look at history, California was able to revoke what the senators passed," she said. "So we want to do the same thing that California was able to do. We have a right."
One of the men in Diaz's cadre, National Black Church Initiative President Anthony Evans, agreed. "This is a clear demonstration to show you that same-sex marriage is not the will of the people—that it is both wicked and immoral, and wrong according to God's law," he said. "Regardless of what the state says, we are going to demonstrate our Constitutional rights, to the point that if we have to do it, we will turn down every state senator who voted for same-sex marriage. We will kick them out."
Rabbi Yehuda Levin, who recently blamed same-sex marriage for the death of the eight year-old Orthodox child Leiby Kletzky, was also on hand for the rally. "If people vote to permit adultery, or people vote to permit underage intimacy, that doesn't make it right," he told me. "So we're not saying, 'Let the people vote, and if they vote to put sodomy on a pedestal, that that makes it right.' That is not the ultimate right—the ultimate right or wrong is timeless, Biblical spiritual values."
The crowds sung, danced, and chanted largely in Spanish—many were unable to answer my questions. They raised family Bibles to the sky. One boy, approximately seven, held a sign that read, "God Will Not Be Mocked."
Three middle-aged women, huddled into a circle amidst the boisterous crowd, quietly prayed the rosary. They had travelled from Westchester County for the rally. Judith Anderson told me she learned of it through NOM's website, and was expecting a "combination of a prayer rally and a support for marriage rally."
Maggie Gallagher, chairman of the National Organization for Marriage, addressed the crowd. I asked her: If voters choose to keep same-sex marriage legal, then what would be the next step? "That's a real big hypothetical," she said. "Let's get it to the people of New York and then I'll figure out my answer."
Gallagher continued, "I still wouldn't believe that two men are a marriage, but I think at that point, you would have to decide that for the moment anyway, that would be what the law of the land was."
I asked what she made of Republican presidential candidates' somewhat muted reaction to the passage of same-sex marriage in New York. Gallagher pivoted. "I don't think Michele Bachmann's very strong opposition to gay marriage is hurting her in Iowa," she said. "I think it's allowed her to become a breakout candidate, which no one, including me, would have predicted."
7/29/2011 4:00:00 AM