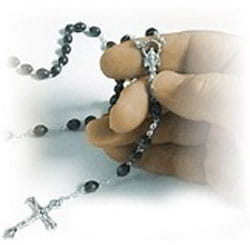 I've got a confession to make.
I'm regularly praying the Rosary. There, I said it.
For months now, and daily during the work week.
I'm up at 4:15 a.m. It's still dark. Quite dark. I find my Droid X and the Rosary App I downloaded for free. I find my beads given to me by the angel who ran our RCIA program at St. Joan of Arc's and I head quietly downstairs to my living room, my dog Harley following sleepily and looking at me as if I've lost my marbles, communicating with his eyes that he'd much rather be back in his bed.
I first gather my thoughts. I think about who I want the Rosary to be prayed for. The usual suspects will include family mostly, friends who've communicated a need, and then our political and military leaders. I talk quietly to God about those intentions and then I launch the app. Twenty-five minutes or so later, I'm done and better for it. Believe it.
I'm not "good" at the Rosary, frankly, and by that I mean that without the app I think I'd seriously struggle, but I'm getting better. I'm beginning to memorize the Mysteries. I've mastered most of the prayers with an exception or two, and I find that the devotion has helped me focus—helped me be less anxious about all that worries me (I am sadly like my mother, a worry wart)—and helped me to face the day with a renewed faith.
In other words, it's made quite the difference.
It hasn't been easy and I'm not necessarily talking about the mechanics or the beads or the Mysteries or learning each prayer. I'm talking largely about the idea of asking Mary time and again to intercede for me and those I'm lifting up.
It was simply a huge no-no as a Protestant.
But thanks to some sound teaching during RCIA, some study on my own, my reading of Pope John Paul II, and, I think, the prayers of others, it's now become a yes-yes.
I've hesitated to talk about it for a variety of reasons, most having to do with an ego as-yet-too-large. Doing something I once vigorously opposed-unto-obnoxiousness is somewhat problematic and of course I'm not the most pious fella, publicly, and so this sort of thing is likely seen as unusual by those who know me (or who think they do).
And I am frankly conscious that there will be some who see it as a weakness, as something less-than-manly - they imagine that the Rosary is something more typically done by females, most of them of the blue haired variety.
All these folks are wrong, of course, and I'm as wrong for worrying an iota about it.
I know that I'm being changed by this discipline. I know that my faith is growing. I know with certainty that it's time well spent.
Pope John Paul has described praying the Rosary thusly:
The Rosary, though clearly Marian in character, is at heart a Christocentric prayer. In the sobriety of its elements, it has all the depth of the Gospel message in its entirety, of which it can be said to be a compendium. It is an echo of the prayer of Mary, her perennial Magnificat for the work of the redemptive Incarnation which began in her virginal womb. With the Rosary, the Christian people sits at the school of Mary and is led to contemplate the beauty on the face of Christ and to experience the depths of his love. Through the Rosary the faithful receive abundant grace, as though from the very hands of the Mother of the Redeemer.
A Christocentric prayer containing all the depth of the Gospel message.
To which I say Amen.
7/12/2011 4:00:00 AM