Praying with Saint Mark's Gospel: Daily Reflections to Lead You Through the Word of God
Father Peter John Cameron, ed.
Magnificat's devotional provides a line-by-line meditation on Saint Mark's Gospel that I have found to be thought provoking and fruitful. In a sense it is like a directed form of Lectio Divina. Twenty-four different authors each take different sections of the gospel and provide commentary that often takes me in a direction I never considered before. If you are a regular subscriber to Magnificat as I am, then many of the authors will be familiar. What is less familiar is the in-depth coverage of the Gospel. The Gospel and commentaries are divided up to cover every calendar day of the year. Previous volumes have covered St. Matthew's Gospel and St. Paul's letters. When the new liturgical year begins in November, St. Mark's Gospel will be the main source for the Sunday Gospel readings and this book will be a wonderful companion to read during the year ahead
Assorted Homilies of Pope Benedict XVI
We have a great treasure in the different series of educational homilies that Pope Benedict has given over the years. Among other topics, he has focused on the apostles, Saint Paul, the The Fathers, and Holy Women. Each of these has been gathered into its own volume so that we may read them at our leisure. None of the homilies is ever more than a few pages since they were originally given during Papal Audiences, and for the same reason they all are easy to understand. Pope Benedict has the ability to simply and concisely convey the essence of a saint's life and legacy to the Church. He then always ties their lives to ours in modern times, leaving us with a fresh, almost tangible connection to God. Some volumes have illustrated versions, which I highly recommend for aiding understanding and meditation.
In Conversation with God, Seven-volume set
Francis Fernandez
Scepter Publishers, 1993
I have been reading this series every morning for ten years and have yet to find a daily devotional that is better or more complete. These small books contain brief meditations for every day of the Church's liturgical calendar, including feast days and the three cycles of Ordinary Time on Sundays. The reflections range from the sacraments and virtues to family interaction and friendship. The sensible and down-to-earth writing is enhanced by quotes from saints, scripture, popes, Church documents, and other such authorities. I especially enjoy the fact that this was translated from the original Spanish, meaning that things applying to my daily life and problems are exactly the same things faced by people in Spain, and around the world. I bought this one book at a time as they didn't have the slipcased version out yet, but would highly recommend springing for the whole thing at once. In the ten years that I've been reading it, I haven't ever gotten tired of these devotionals.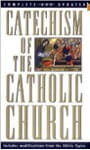 The Catechism of the Catholic Church
U.S. Catholic Church
Image, 1995
The idea of reading a section or page of the Catechism daily for meditation is one that I picked up long ago after hearing Archbishop Arinze mention his practice of doing so. It makes perfect sense because the Catechism is good for more than just looking up answers to questions. I am continually surprised at the beauty and eloquence expressed in discussing some of the most basic concepts. I suppose that is a lesson in itself. There is beauty in every concept when we are speaking of how to grow closer to God, the author of Beauty. Every household should have a copy of the Catechism so if you don't, this might be the perfect excuse to pick one up and have it serve double duty as a reference and daily devotional.
8/31/2011 4:00:00 AM