Editorial Note: This is one of a summer series entitled: Spiritual Lessons I Learned On Vacation.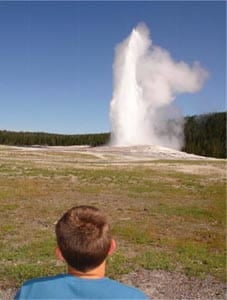 I tell Lisa she's dangerous, one of the rare people in my life who can exert peer pressure over me easily. Today, she wants me to get into Jackson Lake, which is full of mountain run-off. Lisa does triathlons and swims in the Pacific Ocean; cold water is not new to her. She gives me this look, which gets me up off the warm picnic table and sticking my toe into the water. She believes we are setting an example for our kids, who range in age from 9 to 16. Lisa prevails upon me, and the older kids, to enter the water and swim to the buoys.
My girlfriends and I decided to meet up in Grand Teton National Park. We choose Colter Bay Cabins; we booked them in January, after consulting twelve calendars, band camps, swim teams, speaking engagements, work schedules. Two friends cannot make the trip, but Julie, Lisa, and I, with our crews, can make it work.
Lisa's family used to visit the Tetons when she was a child. My parents had the audacity, in 1969, to take four children in an Apache pop-up camper, from Illinois out west for three weeks. They wanted us to see the United States, the Continental Divide, the Grand Canyon, Disney World. We had already flown in jets, my father having been drafted into the Navy, and we had lived in Norfolk, Virginia for a while. No, this trip was to see the United States up close and personal, in the back of a station wagon, via campgrounds and National Parks.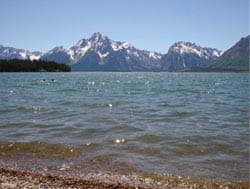 Now I realize, with three children of my own, the importance of family vacations, especially as the countdown to lift-off closes in with two of our three children in high school this year. I think there's something important in the process of stepping away from life as we know it, and stepping into life as we do not know it, stepping into the sacred time that is vacation. Like water in baptism and bread in communion, being set apart from a common to a sacred use, vacation is a time when our lives get retooled, set apart from common use, to show us our sacred use. On vacation we remember our lives are really always both: common and sacred, bundled together, smushed in together, like kids in the backseat of a car on vacation.
Not long after arriving, we call our vacation "Camp Runamok," because all three families are staying in cabins, surrounded by wilderness. At dusk, moose, mule deer, and elk emerge not far from where we are staying. A few weeks before we arrive, a grizzly sow with a cub kills a person in Yellowstone, just up the road. We are told to be loud, to not surprise animals and their young. We assure the Colter Bay staff that our group will make noise, that we are a group with volume.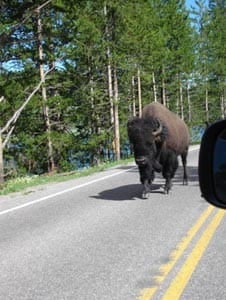 In the mornings, I'm in line for coffee at the General Store when it opens at 7:30 a.m. On the daily walk through the woods, with Grand Teton as a backdrop, a snow-capped sentinel that takes my breath away, I see a pika peek out of her hole at me. In a pajama top with a fleece jacket and my hair askew, the brisk walk through the woods reminds me of childhood, waking up in the chilly mountain air in the camper, climbing out, with a day of adventure ahead. Time with these friends I've known since childhood flows in all directions. Years have sped by as quickly as the Snake River is running this season. I see in their faces the children they were, the adult women they are, and behold the children who resemble them in looks or mannerisms.
Packing into two cars to see Yellowstone for a day, I stare across the steam on Old Faithful's boardwalk at eleven people I adore. In the car, we pass around iPod's. My son, a drummer, has me listen to Florence and the Machine's "Cosmic Love" loudly, and we both agree it's a religious experience. We whitewater raft and our guide Peter tells a joke about a priest and a raft guide trying to get into heaven with room for only one more; Peter says the raft guide gets in because he made more people pray. We ride horses through fast flowing streams.
8/3/2011 4:00:00 AM