Let no one despise your youth, but set the believers an example in speech and conduct, in love, in faith, in purity (1 Tim. 4:12).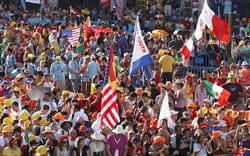 Pilgrims fill Madrid's Plaza de Cibeles for the opening Mass of World Youth Day (CNS photo/Paul Harin)
In 1979, long before there was such a thing as World Youth Day, a young John Paul II was busy making apostolic visits to Mexico, Italy, Poland, and the United States. Along the way he deliberately set up meetings with the youth of those nations. I recall his coming to New York's Madison Square Garden, October 3, 1979, because I was in the crowd—a young youth minister attending with my group.
For the young people, the atmosphere was akin to a rock concert—some hooting and hollering and a lot of clapping; we really didn't know what to expect or how to behave. Most of us had never seen a pope live and in person before! But John Paul handled it with congenial grace. A former college professor and pastor, he understood us. And he transformed the rollicking Garden with a loving enthusiasm all his own, warmly receiving the perhaps dubious gift of jeans and a t-shirt that some students presented to him.
John Paul entered into our cheering and laughter, and then spoke to us with careful deliberation. And every kid I knew leaned in with rapt attention . . .
This is the meaning of life: to know Christ. To know Christ as a friend: as someone who cares about you and the person next to you, and all the people here and everywhere—no matter what language they speak, or what clothes they wear, or what color their skin is. . . .
Soon you will be making major decisions which will affect the whole course of your life . . . And so I invite you today to look to Christ.
When you wonder about the mystery of yourself, look to Christ who gives you the meaning of life.
When you wonder what it means to be a mature person, look to Christ who is the fullness of humanity.
And when you wonder about your role in the future of the world . . . look to Christ.
(John Paul II, Address to High School Students, October 3, 1979)
The Madison Square Garden event was a catalyst—there was a cool factor in just being there—but something happened to us that went beyond the event. For many young people a spark was lit, and they began taking the next steps in Christian maturity.
The Holy Spirit orchestrated that youth event, and others like it, giving the pope direct access to the hearts and minds of young Christians, as he personally delivered the gospel to a new generation. To my mind, the success of these meetings led to the formation of the first international World Youth Day in 1986. Today World Youth Days are days-long, with an international flavor and a myriad of spiritual and service-related activities that radiate in and around the host city.
This week, Pope Benedict XVI attends his third World Youth Day in Madrid, Spain. He made this announcement earlier this month in anticipation:
Christian faith is not only a matter of believing that certain things are true, but above all a personal relationship with Jesus Christ. It is an encounter with the Son of God that gives new energy to the whole of our existence. When we enter into a personal relationship with him, Christ reveals our true identity and, in friendship with him, our life grows towards complete fulfillment. There is a moment, when we are young, when each of us wonders: what meaning does my life have? What purpose and direction should I give to it? This is a very important moment . . .
(Benedict XVI, Message for the 26th World Youth Day)
The pope wants to offer hope in that moment. And dare I say that for many, these questions of life are not limited to one's youth. We might all want to pay attention to the events going on in Madrid, and ask God to speak a personal word to us through its ongoing celebrations.
8/17/2011 4:00:00 AM