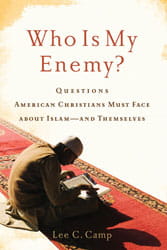 Who Is My Enemy? Questions American Christians Must Face about Islam—and Themselves
By Lee C. Camp
Now Featured at the Patheos Book Club.
Book Overview
Current discussion of Islam in America tends toward two polar extremes. On one hand is the notion that Christianity is superior to Islam and that Muslims are warmongers. On the other is the notion that all religions basically say the same thing and are peaceable. Theologian and critically acclaimed author Lee Camp argues that both these extremes are wrong. In Who Is My Enemy? he introduces Christian and Islamic views on war and peacemaking and examines Christian and non-Christian terrorism to help readers confront their own prejudices. Camp shatters misconceptions about religious violence, arguing that American Christians often opt for an ethic that has more in common with the story of Muhammad than with the story of Jesus.
Who Is My Enemy? shows readers how to respond faithfully and intelligently to Muslims in today's world as well as to the New Atheists who suppose that all religion is inherently violent. It provides balanced teaching on war and peacemaking, offering hope for reconciliation in a post-9/11 world.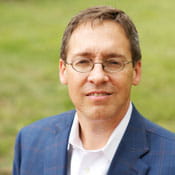 Lee C. Camp (PhD, University of Notre Dame) is professor of theology and ethics at Lipscomb University in Nashville, Tennessee. He is the author of Mere Discipleship and the host of Tokens, a popular radio show based in Nashville. Camp speaks regularly to university and church audiences and has served in various ministry roles in Tennessee, Kentucky, Indiana, and Nairobi, Kenya. Find out more about Lee Camp at www.LeeCCamp.com.
Praise for Who Is My Enemy?:
"When does an astute theological inquiry become utterly engaging? When it opens each of us up to the gracious source of our own existence and lets the scales drop from our eyes. Lee Camp lets us see this process in him, thereby making it possible for us to adopt a new way of seeing. Read this book at your peril, for you will surely discover how entering into another faith tradition can enliven your own."
—David Burrell, CSC, professor of ethics and development, Uganda Martyrs University
"Lee Camp is courageous, and his courage is to believe that what Jesus taught is relevant today. The argument in this book is an old one with some surprising if not inflammatory twists. But the sad reason this book must be written is that Christians continue to ignore the One who said 'love your enemies.' Waging war and following Jesus are incompatible. Do we have the courage to hear and follow Jesus?"
—Scot McKnight, Karl A. Olsson Professor in Religious Studies, North Park University
"There's a lot of bad theology out there and it's deadly. But the answer to bad theology is not no theology, it's good theology. That's why I like Lee Camp and his latest book. Camp knows Christianity is better than the worst things Christians have done, and he insists we must extend the same grace to Islam. Who Is My Enemy? is an invitation to start working on the log in our own eye so we can more clearly see into the eyes of others."
—Shane Claiborne, author, activist
"Lee Camp nails it: many Christians cite the Sermon on the Mount to show Christianity's superiority over Islam and the Qur'an's command of retaliatory war. Then those same Christians compartmentalize the Sermon on the Mount and adopt the ethics of retaliatory war themselves. The result of reading Who Is My Enemy? will be that we Christians either become consistent and actually follow Jesus or, if not, at least become more respectful toward Islam. The later would still be an advance for peacemaking and the way of Jesus: love your enemies, at least a little."
—Glen Stassen, Lewis B. Smedes Professor of Christian Ethics, Fuller Theological Seminary; author, Living the Sermon on the Mount
Read a book excerpt and author Q&A at the Patheos Book Club on Who is My Enemy? here.
9/16/2011 4:00:00 AM