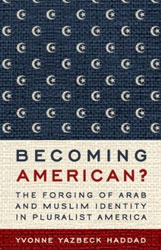 Becoming American? The Forging of Arab and Muslim Identity in Pluralist America
By Yvonne Yazbeck Haddad
Book Overview
Countless generations of Arabs and Muslims have called the United States "home." Yet while diversity and pluralism continue to define contemporary America, many Muslims are viewed by their neighbors as painful reminders of conflict and violence. In this concise volume, renowned historian Yvonne Haddad argues that American Muslim identity is as uniquely American it is for as any other race, nationality, or religion.
Becoming American? first traces the history of Arab and Muslim immigration into Western society during the 19th and 20th centuries, revealing a two-fold disconnect between the cultures—America's unwillingness to accept these new communities at home and the activities of radical Islam abroad. Urging America to reconsider its tenets of religious pluralism, Haddad reveals that the public square has more than enough room to accommodate those values and ideals inherent in the moderate Islam flourishing throughout the country. In all, in remarkable, succinct fashion, Haddad prods readers to ask what it means to be truly American and paves the way forward for not only increased understanding but for forming a Muslim message that is capable of uplifting American society.
About the Author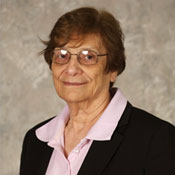 Yvonne Yazbeck Haddad is Professor of History of Islam and Christian-Muslim Relations at the Center for Muslim-Christian Understanding, Edmund A. Walsh School of Foreign Service, Georgetown University. She is author or editor of more than fifteen books, including Muslim Women in America: The Challenge of Islamic Identity Today and Muslim Minorities in the West: Visible and Invisible.
Praise for the Book
"Haddad is always at the cutting edge in the study of Arab and Muslim Americans. Becoming American? is an important contribution both to the American Muslim community and to the growing corpus of scholarly writing on Islam in America. Haddad's is a unique voice and one that is highly valued."

—Jane I. Smith, Harvard Divinity School
"For the past 30 years, Yvonne Haddad has been one of the most important scholars of Islam and Muslims in North America. This new book is a welcome addition to her critical work on Arabs and Muslims in the public and political landscapes of the United States. Blending anecdotes and personal narratives with recent scholarship, she has created a book that is as readable as it is important."

—Amir Hussain, Editor of the Journal of the American Academy of Religion
"[Haddad] offers a historical perspective for understanding the emergence and appeal of political Islam as a distinct alternative for Muslim countries in the postcolonial 20th century. A highly recommended quick read, good for libraries and anyone interested in a better-informed understanding of multiethnic, multireligious America."

—Publishers Weekly
"A must-read for all those interested in the development of Western Arab and Muslim communities."

—Anthony McRoy, The Muslim World Book Review
For more conversation on Becoming American?, visit the Patheos Book Club here.
9/16/2011 4:00:00 AM