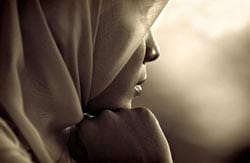 There are dress codes for everything, from the work place to the social nightlife scene; and women who wear the hijab, or veil, do so at all these venues. A tweet went out about a private event on Facebook that was created by a few students who attend the American University in Cairo (AUC). They were hosting a post-graduation party that was held at the Intercontinental City Stars with a dress code policy: "no veiled girls." It also precluded the following: jeans, sports shoes, jilbab, and t-shirts.
This reverse discrimination not only affects the locals, but Muslim-Americans who decided to study in Egypt and wear the veil. A couple of girls were denied entry into the popular Cairo lounge called After 8 unless they styled their hijabs in a "modern way." Kinza Khan, who will be entering DePaul Law School in Chicago this fall and had studied abroad at AUC in 2009, is one of the girls who were told to put her hijab in a "Spanish style." When the hostesses found out they were American, they insisted they enter the venue without changing the style of their scarves. However, Kinza refused this treatment and walked away.
Kinza told Elan Magazine, "Before I went to Cairo, I expected to blend in more because of the headscarf and be treated more like an Egyptian and that it would work in my favor." Kinza had worn the hijab prior to arriving in Egypt and writes in her blog, "What if we were Egyptian? What's wrong with being a local Egyptian, non-American, wearing a scarf?" Nonetheless, Kinza points out the irony of the situation of being in a Muslim-majority country and not being allowed to enter some venues because she dons the veil. Kinza says she was not angry, but shocked because "it's almost as if secular America is more of an Islamic country than Egypt."
Zaba Roshan, who was also refused entry at After 8, talked about how people may interpret the veil in different societies. Zaba said she knew Cairo to be a liberal city and was not sure how many women would wear the hijab there. After finding a large majority of Cairo women donning the veil, she was surprised when the man by the door told her she had to change the way she was "styling" the hijab to expose her neck and chest. Zaba stated, "I wasn't prepared for the fact that it was more of a cultural thing than an actual religious practice."
Some argue that owners and hosts of private establishments have the right to refuse entry to anyone that does not acquiesce to their dress code requests. Even though Egypt is a Muslim majority country, some owners of private establishments expect any female, hijab-wearing attendees to style their veils a certain to way to enter social scenes. Fatemeh Fakhraie, editor-in-chief at Muslimah Media Watch, says, "Owners who ban women with scarves from establishments in MENA region are no better than those who do it in the West . . . It is discriminatory and offensive to ban women from anything, especially on grounds relating to what they wear or their appearance." The decision to enter a venue is being left to those who do not wear the hijab, yet believe they have the right to refuse entry to those who may not fit the image of their establishments.
Women who wear veils have been banned from not just social venues in Cairo, but from the work place as well. In 2007, Hala el Malki and Ghada el Tawil were banned from wearing the hijab on television as anchors. They took their cases to court and won their lawsuit against the TV station. Though they have won this lawsuit, Yasser Salem, a young Egyptian male working as an engineer says, working as a TV anchor without a hijab has become an "unwritten rule." As an unofficial company policy, women that wear the hijab mostly cannot work as airhostesses, TV anchors, and some company receptionists. Yasser states, "the people who want you to wear it are completely different from the people who are denying you from wearing it," even though they are Egyptians.
In the United States, there have been lawsuits against companies such as Abercrombie and Fitch for not allowing female workers to wear the veil at work, stating it goes against the company's "Look Policy." The "Look Policy" is a guidebook given to employees illustrating what "looks" are acceptable at the work place, with more pictures than text guiding as examples. Recently, Samantha Elauf has testified to the jury saying that the company practiced discrimination against her since she wore a hijab to the interview. The judge found Abercrombie liable and the EEOC has asked the judge to issue a permanent injunction against the company.
9/14/2011 4:00:00 AM