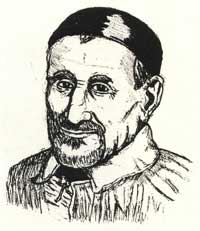 Throughout the eighteenth century, the French philosopher François-Marie Arouet, better known by his pen name Voltaire, used his capable pen to attack the Catholic Church as a foe of reason and human progress. But when Vincent de Paul was canonized in 1737, he said: "Now there's the saint for me!" During the anti-religious hysteria of the French Revolution, as churches were desecrated and religious images defiled, one person's image was left untouched, the priest known as "the father of the poor."
But as one biographer notes, Vincent "was not born a saint." An intelligent child from a poor family, he initially saw the priesthood as an escape from poverty. Once he acquired a wealthy parish, he planned to use his income to take care of his parents in their old age. In pursuing a religious vocation, he had mixed motives, to say the least.
A stocky man of medium height, Vincent was shrewd, astute, and possessed of enormous common sense. One biographer describes him as having "a gift for winning other people's good will." Another writes that he "charmed everyone on first approach." He was undeniably ambitious, but he balanced this with a deep compassion for society's least. In time, he would translate that compassion into action.
But as a young priest, he was less interested in reform than in his own income. In time he acquired several prestigious positions, including chaplain to the wealthy De Gondi family. It was there while ministering to the tenants on their vast estates that he discovered his life's mission. It happened over time as he identified three major problems in seventeenth century France: religious ignorance, poorly trained clergy, and widespread poverty.
To meet the first challenge, he organized parish missions for the rural poor. These were weeklong events promoting repentance and renewal, consisting of morning and evening lectures followed by confession. He founded a community of priests to conduct them, the Congregation of the Mission (better known as the Vincentians). Its motto is from Luke's Gospel, Evangelizare Pauperibus Misit Me ("He has sent me to bring the Good News to the poor.")
Vincent once told a group of priests, "We are the cause of the desolation that afflicts the Church." One historian observes, "At the time it was asking a good deal of a priest to require that he should know how to read and write." Many heard confession without knowing the formula for absolution. To face this problem, he organized seminaries (then a relatively new innovation) and organized ongoing lecture series for clergy. There was, he said, "no greater work than the formation of priests."
It was in Vincent's work with the poor that his organizing genius emerged. At the parish level he organized Confraternities of Charity to meet material needs. Among the wealthy he raised funds and organized volunteers. With St. Louise de Marillac, he founded the Daughters of Charity, a community working outside the cloister among the poor and the sick. "Let us love God, my brothers," Vincent once told his priests, "but let it be with the work of our hands and the sweat of our brows."
Through these various groups, Vincent addressed the needs of the poor, the sick, orphans, refugees, the elderly. He could be quite persuasive. On one occasion, when a group of volunteers debated whether they could continue their work with orphans, he told them:
You know, you became the mothers of these children by grace, when their mothers by nature deserted them, and I am now going to take your votes to find out what you want to do about them. Cease to be their mothers and become their judges. Their life and death are in your hands. If you keep on caring for them, they are going to live, to be brought up Catholics; but if you give up this work, they are going to die. All your experience with them teaches you that. So now, vote!
They voted unanimously, to continue.
Vincent's commitment to social change was rooted in a spirituality integrating love of God with love of neighbor. His was a practical spirituality. He once said: "It is the hour for prayer; if you hear the poor calling you, mortify yourselves and leave God for God." The single major theme he preached throughout his priesthood was the love of God, as found in the face of God's least.
More than charity, Vincentian spirituality stresses justice. In a world that negates the person's innate dignity, Vincent calls men and women to work for deeper changes in society. For Vincent, this change must be rooted in a concrete, joyful experience of the Lord's deep love, a love burning to translate into action.
By the time of his death at age eighty-four, France had experienced a religious revival. New religious orders were being founded, missionaries were being sent abroad, and the priesthood had been reformed. One historian calls Vincent's work with the poor "perhaps the greatest accomplishment of human genius in the order of organized charity."
9/19/2011 4:00:00 AM