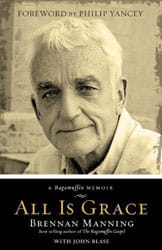 Now Featured at the Patheos Book Club:
All Is Grace: A Ragamuffin Memoir
By Brennan Manning
About the Book
It has been over twenty years since the publication of The Ragamuffin Gospel, a book many claim as the shattering of God's grace into their lives. Since that time, Brennan Manning has been dazzingly faithful in preaching and writing variations on that singular theme—"Yes, Abba is very fond of you!"
But today the crowds are gone and the lights are dim, the patches on his knees have faded. If he ever was a ragamuffin, truly it is now. In this his final book, Brennan roves back over his past, honoring the lives of the people closest to him, family and friends who've known the saint and the sinner, the boy and the man. Far from some chronological timeline, these memories are witness to the truth of life by one who has lived it—All Is Grace.
About the Author

Brennan Manning has spent the past forty years helping others experience the reality of God's love and grace. It's at the heart of everything he's written and done. A recovering alcoholic and former Franciscan priest, his spiritual journey has taken him down a variety of paths.
He has taught seminarians, spoken to packed arenas, lived in a cave and labored with the poor in Spain, and ministered to shrimpers in Alabama. Brennan is best known as the author of the contemporary classics, The
Ragamuffin Gospel, Abba's Child, Ruthless Trust, The Importance of Being Foolish, Patched Together
, and
The Furious Longing of God.
Return to the Patheos Book Club for more conversation on Brennan Manning's All Is Grace.
10/16/2011 4:00:00 AM