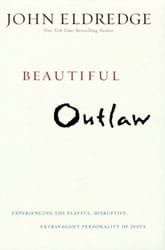 Now Featured in the Patheos Book Club:
Beautiful Outlaw
By John Eldredge
About the Book
Reading the Gospels without knowing the personality of Jesus is like watching television with the sound turned off. The result is a dry, two dimensional person doing strange, undecipherable things.
In BEAUTIFUL OUTLAW, John Eldredge removes the religious varnish to help readers discover stunning new insights into the humanity of Jesus. He was accused of breaking the law, keeping bad company, heavy drinking. Of being the devil himself. He was so compelling and dangerous they had to kill him. But others loved him passionately. He had a sense of humor. His generosity was scandalous. His anger made enemies tremble. He'd say the most outrageous things. He was definitely not the Jesus of the stained glass.
In the author's winsome, narrative approach, he breaks Jesus out of the typical stereotypes, just as he set masculinity free in his book, Wild at Heart. By uncovering the real Jesus, readers are welcomed into the rich emotional life of Christ. All of the remarkable qualities of Jesus burst like fireworks with color and brilliance because of his humanity.
Eldredge goes on to show readers how they can experience this Jesus in their lives every day. This book will quicken readers' worship, and deepen their intimacy with Jesus.
About the Author

John Eldredge is part of the leadership of Ransomed Heart, a ministry devoted to helping people discover the heart of God, recover their own heart in his love, and learn to live in his Kingdom. John grew up in the suburbs of Los Angeles. John earned his undergraduate degree in Theater at Cal Poly, and directed a theater company in Los Angeles for several years before moving to Colorado with Focus on the Family, where he taught at the Focus on the Family Insitute. John earned his master's degree in Counseling from Colorado Christian University, under the direction of Larry Crabb and Dan Allender. He worked as a counselor in private practice before launching Ransomed Heart in 2000. John and his wife Stasi live in Colorado Springs with their three sons.
What People Are Saying About Beautiful Outlaw
"It's beautiful. It's funny. It's earthy. It's challenging. It presents a Jesus whom I am compelled to fully engage and ultimately adore."—Cherie, a young mother from Colorado Springs, CO
"The lady next to me on the plane must have thought I was a mental case. I wept, the tears streaming down my face. I have fallen in love with Jesus all over again."—Reese, a pastor from Atlanta, GA
"It opened my eyes to who Jesus really is, and I found him to be better than I ever imagined."—Jim, a cowboy from Pagosa Springs, CO
"Never have I read a book that awakened in me such an intentional desire to know Jesus, to love him, and to allow him to live his life through me."—Susan, a schoolteacher from Nashville, TN
"Not sure how to express all it stirred in my except that my heart and mind are passionately saying, 'Yes, yes, yes, I want more of the real Jesus!'"—Tamara, a Girl Scout leader from Pendleton, OR
"Eldredge's trademark passion and personal transparency offer another inspiring challenge that could revolutionize lives as did his Wild at Heart."—Christian Retailing Magazine
"Bestselling author Eldredge (Wild at Heart), founder of Ransomed Heart Ministries, uses his playful style to uncover the truth about who Jesus really was."—Publishers Weekly
Visit the Patheos Book Club for more conversation on Beautiful Outlaw.
10/16/2011 4:00:00 AM