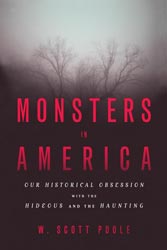 Now Featured in the Patheos Book Club:
Monsters in America
Out Historical Obsession with the Hideous and Haunting
By W. Scott Poole
Salem witches, frontier wilderness beasts, freak show oddities, alien invasions, Freddie Krueger. From our colonial past to the present, the monster in all its various forms has been a staple of American culture. A masterful survey of our grim and often disturbing past, Monsters in America uniquely brings together history and culture studies to expose the dark obsessions that have helped create our national identity.
Monsters are not just fears of the individual psyche, Scott Poole explains, but are concoctions of the public imagination—reactions to cultural influences, social change, and historical events. Conflicting anxieties about race, class, gender, sexuality, religious beliefs, science, and politics manifest themselves as haunting beings. From Victorian-era mad scientists to modern-day serial killers, new monsters appear as American society evolves, paralleling fluctuating challenges to the cultural status quo.
Consulting newspaper accounts, archival materials, personal papers, comic books, films, and oral histories, Scott Poole has crafted an engrossing, and entirely unique, history of America, one that nimbly illustrates how the creation of the monstrous "other" not only reflects society's fears but shapes actual historical behavior.
Read on and be enlightened...and horrified.
What People Are Saying
"From 19th century sea serpents to our current obsession with vampires and zombies, ... Poole plots America's past through its fears in this intriguing ... sociocultural history."
—Publishers Weekly
"Author and history professor W. Scott Poole ... has set the bar ridiculously high for any future research exploring the locus of historical and cultural studies, particularly as it pertains to the horrific. Equal parts thoughtful and frightening, Monsters In America explores the darkest recesses of American history, using the distorted reflection of fictional monstrosities to tease out the true horror of this nation's unflattering past, ideologies, and political & religious nightmares uniquely suited to these shores."
—The Crawlspace
"Poole clearly did his homework in [researching] this book. His attention to detail both in describing the eras of American history and the evolution of the horror genre is amazing. His insight into horror is interesting and refreshing. Poole moves beyond the obvious and lends a different perspective."
—Chicks Dig Books
"... Poole channels the terrors that lurk in the dark places of American history .... From sea serpents to zombies, from witch trials to alien invasions, and from Dracula to Norman Bates, Poole uncovers the real horrors that lie beneath our national fascination with monsters."
—HorrorTalk
"With Monsters in America, W. Scott Poole has given us a guidebook for a journey into nightmare territory. Insightful and brilliant!"
—Jonathan Maberry, New York Times bestselling author of Patient Zero and Dead of Night
"Ah, October ... the month when every horror-related project under the sun is vying for genre fans' attention. This year, on the 15th day of the 10th month, historian Scott Poole's Monsters in America: Our Historical Obsession with the Hideous and Haunting targets everyone interested in Salem witches, frontier wilderness beasts, freak show oddities, alien invasions, Freddie Krueger, and more. By my count, that's just about all our readers, right?"
—Dread Central
"A well informed, thoughtful, and indeed frightening angle of vision to a persistent and compelling American desire to be entertained by the grotesque and the horrific."
—Gary Laderman, Professor of American Religious History and Cultures, Emory University
"Poole brings to life American horror stories by framing them within folk belief, religion, and popular culture, broadly unraveling the idea of the monster. Thanks to his insights we see the ubiquity of the monster lurking in and around us."
—John David Smith, Charles H. Stone Distinguished Professor of American History, The University of North Carolina at Charlotte
"An unexpected guilty pleasure! Poole invites us into an important and enlightening, if disturbing, conversation about the very real monsters that inhabit the dark spaces of America's past."
—J. Gordon Melton, Director, Institute for the Study of American Religion
"Poole's connection of the monster to American history is a kind of Creature Features meets American cultural history. Here we not only meet such monsters but also discover America's cultural monstrosity."
—John W. Morehead, editor, TheoFantastique.com
10/16/2011 4:00:00 AM