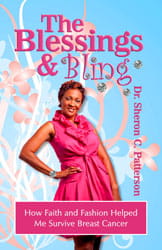 Now Featured at the Patheos Book Club
The Blessings and Bling
How Faith and Fashion Helped Me Survive Breast Cancer
By Dr. Sheron C. Patterson
Book Excerpt: Introduction
They say that "the Lord moves in mysterious ways," and I am a witness—a fashionably dressed witness that is. My faith and my interest in fashion converged to help me through one of the toughest times of my life—my bout with breast cancer.
I have my priorities straight. I love God. I love teaching, preaching and studying God's Word. I also happen to like bling. (A rhinestone here and there never hurt anybody.) I like to shop and dress as fashionably as I can without blowing the mortgage on an outfit. My love and my like helped me survive breast cancer. I learned that with a strong faith and a chic outfit, I could make it - along with gifted physicians and the marvels of modern medicine and technology!
Faith and fashion are an amazing combination.
God cannot be contained to one section of who we are. God is present in both our outer and inner lives, and should be recognized and celebrated in both areas. The greatness of faith and the glamour of fashion are a perfect duo for surviving breast cancer. The two are intertwined in my life. God is in all of it.
Allow me to offer a remix on the Psalm 139:7, "Where can I go from your Spirit? If I go to the shoe department, you are there, or to the jewelry counter, you are there." God is with us all the time and everywhere, and it is a good thing.
Fashion mimics God's creation. The color pallets of a designer's fall collection or a make-up line's eye shadow and lip gloss are humanity's attempt to mirror all of God's glory. Take me for example, the python print on the 4 -inch pumps on my feet re-presents God's majestically hued creature the snake. The deep purple-colored pantsuit on my body pays homage to the vegetable direct from God's hand- the eggplant.
Faith lives and breathes because of God's track record of goodness. So says Psalm 124:1 "If the Lord had not been on our side, where would we be?" My faith enables me to write about my blessed breast cancer journey because I want to tell the world how powerful God is in all ways. A ministry grew out of my misery. A purpose grew out of my pain. I thought breast cancer would be the end; it was my launching pad for life. I never thought I would say it, but the breast cancer was a blessing.
Faith and fashion will not keep you from the challenges of breast cancer. I am not writing naïve, fairy tales that will lull you into the false-hoods that your health journey will be trouble free because of your relationship with Jesus or the latest pair of jeans. Reading this book will not guarantee that you will outlive the cancer in your body. Your hair may fall out due to the chemo-therapy. The radiation treatments may burn your skin. Your cancer surgery site may become infected and require additional work. The stress and strain of the cancer may chase away family and friends. But I am here to tell you that a strong relationship with Jesus will enable you to withstand the pain and praise God anyhow. Also, if you look good, as you are going through, it will help the situation. You can endure with the peace of God inside and a swank outfit on the outside. The truly well- coordinated woman has both.
I am many things. I am a Christian clotheshorse, a faithful fashionista, a grateful glamour girl. I am a wife, mother, daughter, friend and ordained United Methodist pastor. I am a cancer survivor with a story to tell. If you or someone you know is battling cancer, allow my story to encourage and inspire. As you read this laugh, cry, think, pray and realize that there is more than one way to fight cancer. Depression and fear came upon me. I learned I had to choose how I would respond to my problems. You can too. Attitude is everything—along with the right outfit.
I will help you make lemonade from your lemons; make Kool-Aid out of your cancer, and popsicles out of your problems. I am not trying to minimize the severity of your situation, but I want to emphasize that God is bigger than whatever is going wrong in your life. Instead of running to God to report how big your problems are, run to the problem and tell it how big our God is. When cancer-related blues hit you, send up a prayer and reach in your closet to put on your sharpest outfit. Then strut like you know God will make a way. God has given me "... a crown of beauty instead of ashes, the oil of joy instead of mourning, and a garment of praise for a spirit of despair." Isaiah 61:3.
10/16/2011 4:00:00 AM