In a bit of a departure from the usual fare here at Through a Lens, Darkly, today's article isn't about a movie. It's about a person: award-winning film composer Tyler Bates.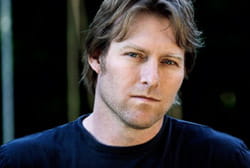 Best known for his collaborations with Zack Snyder (300 and Watchmen) and horror-meister Rob Zombie (The Devil's Rejects and Halloween), Bates took a few minutes away from his latest project—mixing music for The Darkest Hour and Killer Joe soundtrack albums—to discuss his work on The Way, which opened last week. Rooted in folk and Americana, Bates' score for Emilio Estevez's indie feature marks quite a departure from the genre sounds for which he is most widely known.
TaLD: You were born in Los Angeles, but grew up in the Chicago area. What musicians and musical traditions influenced you the most during those early years? Are there particular film composers you can point to as driving forces behind your interest in becoming a film composer?
TB: At age six, I was inspired by Frank Zappa, Sly & The Family Stone, the "Jesus Christ Superstar" soundtrack, and many other artists and recordings. I think the combination of Zappa's technical approach, the expression of Sly Stone, and the story-telling of JCS inspired me to write my own music and become a performer in bands. There is definitely something inherent in my film work that is related to the feeling I have always strived to deliver to an audience as a performing musician. As I matured, I grew to appreciate Led Zeppelin, The Beatles and The Cure, among many others. I have never been a film score buff but I always loved Henry Mancini and Bernard Herrmann. Don Ellis too! By the time I began scoring movies I had discovered Brian Eno and Future Sounds of London, all of whom have influenced my film work. It's really hard to give a concise answer to this question. I would probably answer it a bit differently tomorrow!

TaLD: Looking over your filmography, one is struck by the artistic relationships you have forged with particular directors: you have worked extensively with Zack Snyder, for example, as well as with Rob Zombie and James Gunn. Is The Way the first time you've worked with Emilio Estevez?
TB: Actually, my first film with Emilio was Rated X, which we worked on back in 1999. Emilio and I became close friends and remained so over the years. I began writing music for his film, Bobby, but the film extended its post schedule to the point that it was a direct conflict with 300, so I told Emilio that he might be better off working with someone who could give him an exclusive effort. If I had it to do over I would have continued on. But I am saying this in 2011. I am a different composer at this point. I am much more capable of handling overlapping projects if there is such an occurrence. I wouldn't intentionally put myself in that position though.
:::page break:::
TaLD: Some directors have very definite ideas of what they want to hear in a score. A recent article from the Wall Street Journal's "Speakeasy" featuring your work said that when the legendary William Friedken sat down with you to talk about Killer Joe, he already had a strong musical identity for the film in his mind. Was that the case with Estevez? Or were you given a bit more latitude to search for a musical vocabulary suited to the film's mood and message?
10/13/2011 4:00:00 AM