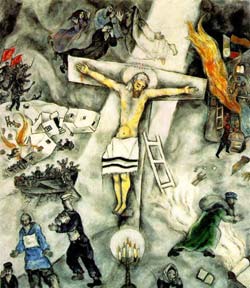 My dad is a pessimist. We were talking to a couple of representatives from the Department of Natural Resources at an agricultural fair meant to educate kids on local animals, and my dad said, "Wasn't it awful about all those exotic animals that got loose in Ohio last week?"
Yes, many animals lost their lives, and a man too. Shall we talk about the local skunk population?
"Yeah, but was it last year that someone got mauled by a black bear in Tennessee?"
My dad gets on these rolls, tsk-ing off every horrible recent news story and shaking his head in bewilderment. I'd laugh about it, except that I'm right there with him. I also inherited the pessimism gene. Tell me a nice story to cheer me up, and I'll trump it with something even worse than what set me off. In the grips of a pessimistic wave, every article of litter becomes a sign of the apocalypse.
Every man is a villain, but most especially, me. I have not yet adopted any orphans. I waste time. I blow money. I lose my temper. I have not even figured out "how to get through a normal Wednesday afternoon," as Walker Percy phrased the problem in his book The Last Gentleman.
To distract oneself from the apocalyptic moment, some people watch movies, some read books, some throw themselves into work. Since I'm a stay-at-home mom in the age of the internet, I read blogs. On many blogs, I find inspiration: if I do A and B, my spiritual life will take on more depth. My house will be neater. I'll become a better person.
The thought gets me through the afternoon, until I shut the computer down, turn around to my children—who have ransacked the house—and get all steamed up again about why life is always an uphill battle.
Research has shown that when children watch TV, they drop into a semi-trance state that actually causes hyperactivity when the TV is turned off. I, too, find it difficult to maintain equilibrium when I've put down a book, or flipped off the monitor. In the dream state, conflicts are controlled, they have solutions, they can be worked out in a few hundred pages, or in the case of the internet, in a few hundred words.
Real life is not so simple. Conflicts can go on for days. Kids have infinite amounts of energy. Walker Percy calls the moment of returning to real life from the dream state, "reentry." You've made it through the worst, but now you have to keep on going. How will you do it?
Either you will go on another rotation, picking up the book again, finding a new distraction, or you will get down to the brass tacks of suffering.
If you read Christian blogs, or more likely, if you write one, you might find yourself under intense pressure to be happy all the time. You know the secret to life, after all. You've found Jesus! The only thing left to do is share Him with others.
And the best way to do this, one might think, is to prove that God makes you happy: ignore the blue mood. Pray harder. Preemptively change aspects of your life that cause you consternation, so you can be a more authentic witness of God's word. And above all, do not write about the fight you had with your husband, or the check you failed to write for your tithe. Don't write about your children's vicious tendencies or your own neurosis.
Some preemptive change can be good. It's good to improve oneself, to wrench sin out of one's life, to deepen one's relationship with God, to become Holy. But what's not good is the expectation that any of this will make you a happier person. One will find internal peace, but not necessarily happiness. It's irresponsible to imply otherwise.
Jesus says, "If anyone would come after me, he must deny himself and take up his cross and follow me" (Mt. 16:24).
Crucifixion is not a good time. It's unlikely that I will ever manage it with grace and aplomb, that I could pray enough to prepare for it, or that I'd do it willingly on an ordinary Wednesday afternoon.
This week in daily Mass, we read the letter of Saint Paul to the Romans (8:18-25):
We know that all creation is groaning in labor pains even until now; and not only that, but we ourselves, who have the firstfruits of the Spirit, we also groan within ourselves as we wait for adoption, the redemption of our bodies. For in hope we were saved. Now hope that sees for itself is not hope. For who hopes for what one sees? But if we hope for what we do not see, we wait with endurance.
My priest pointed out that we willingly put our bodies through suffering to train for a marathon, to give birth, to diet, when we expect to see an earthly pay-off for our discipline and pain. But if there is no earthly pay-off, if our reward is only in Heaven, we very quickly surrender self-control, and start moaning about our crosses.
Walker Percy, whose own father and grandfather committed suicide, converted to Catholicism later in life. Staring down the problem of how to live in the world, Percy accepted Christianity, not as a way to be happy, but as a way not to die.
10/26/2011 4:00:00 AM