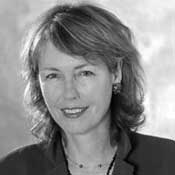 Amnesty's Women's Human Rights Coordination Group member Alisa Roadcup was fortunate to sit down with Pamela Hogan, Co-Creator of Women, War & Peace, a bold new five-part PBS television series challenging the conventional wisdom that war and peace are men's domain. The first part of the documentary aired October 11; the series continues through November 6, 2011.
Tell me about your initial idea for this project. Why Women, War & Peace and why now?
It's hard to remember back that far! My partners—Abigail Disney and Gini Reticker—and I had a fateful lunch at which we realized we'd all been noticing the same trend in war reporting: a focus on the men and the guns, and a dearth of stories about the women and families who are disproportionately targeted in today's conflict zones, but seldom covered in news reports. We'd all individually witnessed this blind spot in the coverage of conflict, and we agreed that the gap between what's reported and what's occurring on the ground was enormous. Women, War & Peace was born!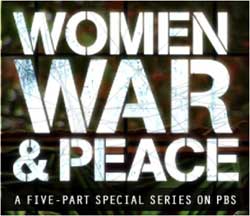 Why do you think documentary film, specifically, can serve as a powerful medium to ignite social change?
Documentary film has the power to bring the work of individuals to life in a way that policy reports and court documents, and even the printed word, doesn't have. One of the lead funders of Women, War & Peace said it so well: "We've been writing reports on these issues for years but in your films the women jump off the screen and people feel an emotional connection and really get the urgency." Documentary storytelling is a visceral medium, and when the lights go up audiences often feel a call to action.
Tell me about a portrayal of women in war captured in Women, War & Peace that somehow plays against type or was unconventional.
So often women living in war zones are portrayed as victims. Big mistake.
In The War We Are Living, two Colombian women—Clemencia Carabali and Francia Marquez—brave constant death threats to prevent their communities from being forced off of the gold-rich lands their ancestors have lived on for generations. In Peace Unveiled, Afghan women are excluded from the international conference where President Karzai first suggests negotiating with the Taliban—so they crash the event anyway. In Pray the Devil Back to Hell, ordinary Liberian women who are sick and tired of fourteen years of war stand up to President Charles Taylor and the warlords. In I Came to Testify, sixteen women from a village in Bosnia take the witness stand in the first trial ever to focus exclusively on sexual violence in wartime, and the landmark judgment establishes wartime rape and sexual slavery as a crime against humanity.
All of these women are taking personal risks, risks that jeopardize not only themselves but also their children and extended families. All of them make me ask myself, could I summon the courage to make that choice if I were in their place? Given the stereotype that women targeted by war are victims, they most certainly break the mold. These women are revolutionaries!
As human rights activists, what can we do to spread the message that violence against women in conflict has to end?
What a great question. That is exactly what we are asking people to do: spread the message. I think human rights activists and advocates are crucial members of the Women, War & Peace audience. As broadcast journalists, one of our responsibilities is to investigate and uncover stories that may otherwise go unnoticed and to seek to give them a national and global platform through film and television and the web. The human rights activist community can broaden that platform, ensuring that the world hears these stories not only on their televisions and in their living rooms—not only on PBS—but also from the mouths of those working in the field and on the ground. One first step in ending violence against women is turning the world's eye on this violence: growing the number of people who can bear witness to instances in which rape, attack, intimidation, and assassination of women is used as a deliberate tactic of war. The activist community can help us accomplish that.
10/12/2011 4:00:00 AM