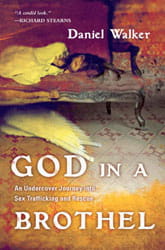 Now Featured in the Patheos Book Club
God in a Brothel
An Undercover Journey into Sex Trafficking and Rescue
By Daniel Walker
This is the true story of an undercover investigator's experiences infiltrating the multi-billion dollar global sex industry.
It is a story of triumph for the children and young teens released from a life of slavery and the rescuer who freed many hundreds of victims leading to the prosecution of dozens of perpetrators. And it is a story of haunting despair for those left behind in corrupt systems of law enforcement.
It is the personal story of Daniel Walker, one man who followed a path of costly discipleship, agonizing failure and unlikely redemption.
And it is a challenge to God's people to join in the battle that all might be freed.
The Anti-Trafficking Tour featuring Daniel Walker is coming to a city near you in October 2011! Visit www.ivpress.com/antitraffickingtour for tour schedule and more information.
Book Features
Draws on stories from around the world
Written from the unique perspective of an on-the-ground investigator
Offers information on the problem sex trafficking
Gives an inside look at the issue of human trafficking within the US
Author shares his own spiritual journey in a way that connects to people's struggles with sin and darkness
About the Author
Daniel Walker has worked as an undercover investigator for a number of nonprofit organizations working to free women and children from sex trafficking in the United States and in over a dozen countries around the world. He holds a master's degree in Third World economic development from Eastern University in Philadelphia.
He has over twenty years of experience in law enforcement and is currently working as a police detective based in New Zealand.
Visit the Patheos Book Club on God in a Brothel to read a book excerpt and listen to an audio interview with the author.
11/1/2011 4:00:00 AM