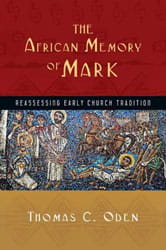 Now Featured at the Patheos Book Club:
The African Memory of Mark: Reassessing Early Church Tradition
By Thomas Oden
Read an overview of the book here.
Endorsements
"The African Memory of Mark is a timely reassessment of Mark, Gospel writer and propagator of the message of Christ to Africa. It rehabilitates a neglected tradition and deserves serious consideration by everyone who has been influenced by the historicist understanding of Mark's life and work."
—Tite Tiénou, Trinity Evangelical Divinity School
"The African Memory of Mark honors the way the Coptic Church has been the faithful, preeminent carrier of the Markan tradition in the church, and does that by weaving the different genres of sources into a narrative whole. Oden is not unaware of standard depictions of Mark and the Gospel that bears his name in which the African note is rather marginal—where it is acknowledged at all—but he challenges established scholarship by marshaling the evidence and refocusing it on the continuity of the Coptic memory of Mark. Whether or not the reader agrees with the argument of the book, Oden has raised the bar of scrutiny and challenged many of the unstated assumptions of conventional scholarship. From critic and fan alike, Oden deserves credit."

—Lamin Sanneh, D. Willis James Professor of Missions & World Christianity, Yale University
"Anyone who enjoys learning about narratives of redemptive history across the globe will benefit from it."
—Matthew M. Whitehead, BibleStudy Magazine, September & October 2011
"A fresh and unusual perspective on early Church history, this text will surely interest both believers and church historians alike."
—Publishers Weekly, July 11, 2011
11/16/2011 5:00:00 AM