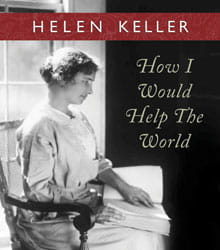 Now Featured at the Patheos Book Club
How I Would Help the World
By Helen Keller
Introduction by Ray Silverman
Wisdom for these times in a recently unearthed work of Helen Keller
This essay by Helen Keller expresses her deep gratitude to Emanuel Swedenborg, the Swedish seer, who had a profound influence on her spiritual life. In it she talks about the importance of love and truth in a world filled with materialism and selfishness, and the joy that comes from true understanding
How I Would Help the Worldis the spiritual autobiography of celebrated humanitarian Helen Keller (1880-1968) who, despite the loss of sight, hearing, and normal speech at 19 months of age, went on to inspire millions as a graduate of Radcliffe College (Latin, German, French, belles-lettres), an author of 12 books, a speaker in 39 countries, and as an advocate for women's rights and the disabled. A 2010 Internet poll ranked Keller #1 on the list of Top Ten Extraordinary People with Disabilities, a list that includes Ludwig von Beethoven and Stephen Hawking. A Gallup poll found Keller was among the Most Widely Admired People of the 20th Century.
Her great advice on how she would help the world is to have people read Swedenborg's writings and thereby overcome the many problems of the human condition. She states, "Were I but capable of interpreting to others one-half of the stimulating thoughts and noble sentiments that are buried in Swedenborg's writings, I should help them more than I am ever likely to in any other way. It would be such a joy to me if I might be the instrument of bringing Swedenborg to a world that is spiritual deaf and blind."
Keller's eloquent words and courageous spirit shine forth in this timeless book of wisdom with an introduction plus parallel passages by Rev Dr. Ray Silverman. Here, in this rediscovered work, she shares her heart - and where it is that she found the inspiration and guidance that kept her going in the darkest of times, both personally and professionally. She was well into mid-life when she experienced the Great American Depression of the 1930's. One of her many admirers, author and humorist Mark Twain, wrote "she doesn't just know merely things, she is splendidly familiar with the meanings of them..... Her page(s) are electric with light."
Her words are interwoven with photographs of her life and quotes from Swedenborg on spiritual topics. This book will be a treasure for many readers who already know and respect Helen Keller and will be an inspiration for those who do not.

Awards
Award-Winning Finalist in the "Spirituality: Inspiration" category of The USA "Best Books 2011" Awards, sponsored by USA Book News.
Table of Contents
List of Illustrations
Part One
Helen Keller: Seer of a New Civilization by Ray Silverman
Part Two
How I Would Help the World by Helen Keller
Chapter One
A Great River of Light
Chapter Two
A Noble Conception of God
Chapter Three
A Love that Embraces All
Appendix: The Three Essentials
Further Reading
Acknowledgements
About the Authors

Helen Keller (1880-1968) was stricken with a disease that left her blind and deaf at only nineteen months of age, and the story of how her teacher, Anne Sullivan, was able to break through and help her learn to communicate became the inspiration for millions. Keller quickly learned to read and write, and later became the first blind and deaf person to earn a college degree when she graduated from Radcliffe College. She spent her life traveling and writing in support of a wide variety of social issues, and was the author of several books. She has been the subject of many other books and films and has received numerous honors for her work.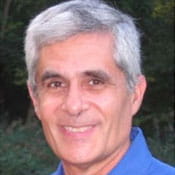 Ray Silverman serves as College Chaplain and Assistant Professor of Religion at Bryn Athyn College, Bryn Athyn, Pennsylvania. He is the editor/reviser of Helen Keller's Light in My Darkness, and has co-authored with his wife, Star, Rise Above It: Spiritual Development through the Ten Commandments. Ray has lectured nationally and internationally on theories of Biblical atonement and is currently working on two new books, A Seamless Garment: A Study of the Four Gospels as a Continuous Narrative and I'm Not Religious, I'm Spiritual: the Inner World of Today's College Student. Ray has a Ph.D. in English and Education from the University of Michigan, and a master's degree from Wesleyan University. He is a member of the society for Biblical Literature, the American Academy of Religion and is a Fellow in the Institute for Transforming Undergraduate Education at the University of Delaware.
Author's Previous Titles:
Light in My Darkness (originally released as My Religion), Swedenborg Foundation, 2000
11/16/2011 5:00:00 AM