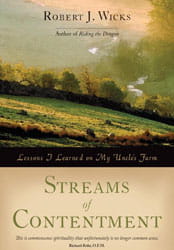 Now Featured in the Patheos Book Club
Streams of Contentment
Lessons I Learned on My Uncle's Farm
By Robert J. Wicks
Book Excerpt
Chapter 11: Recognize That a Little Silence and Solitude Is No Small Thing
Years ago, a United States senator was asked the question, "What is the greatest challenge facing the Senate today?" His simple, revealing answer was, "Not enough time to think." I agree with his assessment and feel it is applicable to all of us. However, I think an equally pressing challenge is at the other end of the spectrum: we think too much and experience too little of what is happening around us and in us. We are either in the silver casket of nostalgia or preoccupying ourselves with a future that might never happen. We regret, feel resentful, worry, or plot our future but fail to live it even when we get there. Instead, we start to consider our new future. On the other hand, having a sense of mindfulness keeps us in the present. We are in the now with an openness to everything that is happening around us.
I learned a bit about mindfulness as a youngster during one of my summers on the farm—only I didn't know that it was mindfulness at the time. This was probably a good thing. When we label things, we then step back from the actual experience we are having. I would wake up some mornings and lay half-asleep, smiling, while the new rising sun drenched me with light and warmth. Everything felt all right. The past didn't intrude on me, and as far as the future was concerned, it was summer. I had no place to go. I didn't think about it or care.
Without my realizing it, these moments were occasionally joined by two longtime friends: simplicity and gratitude. I could hear a small van in the distance and would pop up in bed and look out the window. It was the delivery truck going to Siegel's summer camp about a quarter mile from the farm. It jostled along down a long dirt road, and I could see clouds of dust being kicked up behind it for a long distance.
On Wednesdays each week the van would also briefly stop at our house to see if we wanted something. Although my mother and aunt were trustworthy and generous, children sometimes can't count on adults—even good ones—to do the right thing. So I bounded downstairs each Wednesday to ensure they did, saying "We need to remember to buy an Entenmann's cheese-filled coffee ring." I would say it with a formal voice so they could take in the gravity of the situation.
They would always feign surprise at my announcement. Their questions disturbed me and convinced me that it was a good thing I came down when I did: Was the delivery van really visiting the camp next door? Did I think the man had time to stop by us before returning to the store?
When the van did finally stop and the purchase was made, I felt like I had won an Olympic medal. I also knew this would lead to two joys: a piece of cake now and a chilled piece (which made the cheese inside even better) later. Simple needs, a piece of cake . . . gratefulness felt all through my body, a great time in life.
But this kind of worldview is slowly taken away from children. Needs become, or—more often than not—are made, larger. Things are taken for granted. Simplicity, gratefulness, and mindfulness fade and are labeled unrealistic and impractical. Great desires, anger, neediness, entitlement (sometimes garbed as social justice) show up as our new "friends."
Yet a little mindfulness, sometimes steeped in silence and solitude and made more intentional by meditation, can open up some new space for us to refresh ourselves again as we did as a child. Being childlike, not childish, becomes a real possibility.
I still experience joy when I feel the warmth of the sun or, yes, eat another piece of cheese-filled coffee cake, or when I take time out to be grateful for all the simple joys I already have in my life that I am not enjoying to the fullest. The helpful past and the gracious present are joined together.
When I went fishing in the summer as a child, I would get up early, put on my old clothes, hat, and waders, and walk down to what we called the Briscoe Bridge, a couple of miles from the house. Young adolescent boys are often not given credit for observing the beauties of nature and relishing quiet, reflective times. But that is not true. I looked forward to these times by myself. To this day I can remember how when I was twelve, the early morning scene on the pond struck me when I stepped over the brush and broken tree limbs into the water's edge. I would cast out my line as far as I could and slowly let my eyes retrieve the beauty around me.
11/1/2011 4:00:00 AM