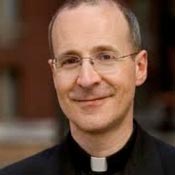 Now Featured at the Patheos Book Club
Between Heaven and Mirth
Why Joy, Humor, and Laughter Are at the Heart of the Spiritual Life
By James Martin, SJ
In some religious circlesjoy, humor, and laughter are viewed as excessive. Excessive, irrelevant, ridiculous, inappropriate, and even scandalous. But a lighthearted spirit is none of those things. Rather, it is an essential element of a healthy spiritual life and a healthy life in general. When we lose sight of this serious truth, we cease to live life fully, truly, and wholly. Indeed, we fail to be holy. And that's what my new book, Between Heaven and Mirth, is about: the value of joy, humor, and laughter in the spiritual life.
This book had its genesis a few years ago when I began to give talks based on a previous book called My Life with the Saints, a memoir telling the story of twenty saints who had been influential in my spiritual life. In a short while I noticed something surprising. Wherever I spoke-whether in parishes, colleges, conferences, or retreat centers- what people wanted to hear about most was the way the saints were joyful people, led lives full of laughter, and how their holiness led inevitably to joy. To a degree that astonished me, people seemed fascinated by joy. It's almost as if they'd been waiting to be told that it's okay to be religious and enjoy themselves, to be joyful believers.
Still, many professional religious people (priests, ministers, rabbis, and the like) as well as some devout believers in general give the impression that being religious means being dour, serious, or even grumpy. But the lives of the saints, as well as those of great spiritual masters from almost every other religious tradition, show the opposite. Holy people are joyful. Why? Because holiness brings us closer to God, the source of all joy.
Joy, to begin with, is what we'll experience when we are welcomed into heaven. We may even laugh for joy when we meet God. Joy, a characteristic of those close to God, is a sign of not only a confidence in God, but also, as we will see in the Jewish and Christian Scriptures, gratitude for God's blessings. As the Jesuit priest Pierre Teilhard de Chardin said, "Joy is the most infallible sign of the presence of God."
Humor is also an essential but neglected requirement of spirituality. Most of the saints, for example, had a terrific sense of humor and could easily laugh at themselves.
Finally, laughter is essential even in the most "spiritual" or "religious" of places. My friend Bill, a priest who works in a small parish in New Mexico, told me a story about attending his first silent retreat-that is, a retreat during which you pray for several days and meet daily with a "spiritual director," with whom you discuss your prayer.
Every day Bill quietly prayed in his small room at the retreat house, with the curtains drawn, growing ever more morose in the gloom. "That was what I thought prayer was all about," he told me.
Three days into his retreat, the retreat director came to his room and said, "Bill, I haven't heard you laugh since you arrived. And I'll wager that the devil hates laughter more than anything else! Get outside and enjoy the sunshine!"
Joy, humor, and laughter are spiritual gifts that we ignore at our peril.
And so, a joke:
The Silent Monk
A man enters a strict monastery. On his first day the abbot says, "You'll be able to speak only two words every five years. Do you understand?" The novice nods and goes away.
Five years later the abbot calls him into his office. "Brother," he says, "You've done well these last five years. What would you like to say?"
And the monk says, "Food cold!"
"Oh, I'm sorry," says the abbot. "We'll fix that immediately."
Five years later the monk returns to the abbot.
"Welcome, Brother," says the abbot. "What would you like to tell me after ten years?"
And the monk says, "Bed hard!"
And the abbot says, "Oh, I'm so sorry. We'll fix that right away."
Then after another five years the two meet. The abbot says, "Well, Brother you've been here fifteen years. What two words would you like to say?"
"I'm leaving," he says.
And the abbot says, "Well, I'm not surprised. You've done nothing but complain since you got here!"
Adapted from BETWEEN HEAVEN AND MIRTH by James Martin, S.J. Copyright © 2011 by James Martin, S.J. Used with permission of HarperOne, an imprint of HarperCollinsPublishers.
Join a Twitter conversation on Between Heaven and Mirth - go to the Patheos Book Club Blog to read an excerpt and get started!
12/1/2011 5:00:00 AM