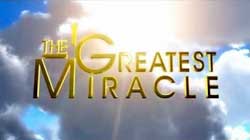 Busy? Distracted? Not even close to ready for Christmas?
It's not too late for a holy Advent.
In limited release for another day or so is a little animated movie called The Greatest Miracle. It's not subtle. The issues are heavy ones. Death. Disease. Lots of pain. Souls crying out for healing. Of the kind only our Lord can provide.
And I'll confess when I first watched The Greatest Miracle I was jarred, and I didn't welcome it.
The Greatest Miracle is the Eucharist. Of course! And that's not what was so jarring. But when the demons came creeping up on the Confession line—literally—I recoiled.
Now part of my reaction came from the fact I was quickly viewing it to test on children. This is not kid's stuff. But it is quite the gift for us adults—perhaps especially those who are daily Communicants and who go weekly to Confession, and who are sometimes on auto-pilot (as I walk in late to Mass on Wednesday, as I check my Blackberry during the homily. Or how about the petitions: "Lord Hear Our Prayer," whatever the prayer is, I'm sure it's worthy, I've got work to do...)
The Eucharist is a jarring thing, if we're really thinking about it. If we're really preparing for it. If we're really prepared. If we're fully present.
We have a tremendous opportunity this week, as we enter into the glorious gift of the arrival of the Christ child, to truly prepare our hearts and cleanse our souls and celebrate the Greatest Miracle with a full surrender to its call. I keep hearing from readers and friends and strangers about long Reconciliation lines. Priests overjoyed by the added work!
It's necessary for the sake of our souls. And it isn't bad prep for an election year, either, at a time when so many self-identified Catholics are leading the way in making some radical changes in our culture—redefining marriage and liberty, reworking the concept of rights in violation of our consciences.
In a sermon on Christmas, Fr. Ronald Knox said:
In the last few years, a new word has been added to the English vocabulary, the word "post-Christian." Those who make use of it mean to imply that there is, after all, nothing final about the Christian culture which has served us these last nineteen centuries—it may be only a phase, a passing phrase, in the development of human thought. Well, they have a right to their opinion. Only, let us not flatter ourselves with the expectation that the world is going to find a new religion to replace it. In proportion as the world grows weary of its Christian hope, the alternative is materialism, of a type with which we are familiar—that and nothing else. Its experience of Christianity has been like a great love, the love of a lifetime, never to be repeated; we are immunized against the supernatural. No new voice which speaks to us in the name of religion will have any appeal for us, if it does not bring us back to the stable of Bethlehem—there to humble our pride, and enlarge our charity, and deepen our sense of reverence with the sight of a dazzling purity.
We don't have to be announcing a post-Christian moment to be living as if we have moved beyond Bethlehem. We can be in Church every day and yet live the rest of our lives as if that has no connection to our work and our play. That Child. This week. At every Sacrament. We can begin again. Always having room for Him.
"Lord I am not worthy that you should enter under my roof, but only say the word and my soul shall be healed."
Dazzling purity in our hearts! How's that for the Greatest Miracle, the Perfect Gift, all hearkening us to rest in His Sacred Heart.
Whether or not you get to see the movie now or later, it's not too late to truly, fully embrace the Greatest Miracle.
12/23/2011 5:00:00 AM