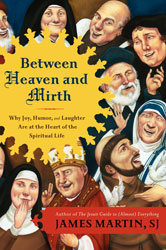 Now Featured at the Patheos Book Club
Between Heaven and Mirth
Why Joy, Humor, and Laughter Are at the Heart of the Spiritual Life
By James Martin, SJ
About the Book
In Between Heaven and Mirth, James Martin, SJ, assures us that God wants us to experience joy, to cultivate a sense of holy humor, and to laugh at life's absurdities—not to mention our own humanity. Father Martin invites believers to rediscover the importance of humor and laughter in our daily lives and to embrace an essential truth: faith leads to joy.
Holy people are joyful people, says Father Martin, offering countless examples of healthy humor and purposeful levity in the stories of biblical heroes and heroines, and in the lives of the saints and the world's great spiritual masters. He shows us how the parables are often the stuff of comedy, and how the gospels reveal Jesus to be a man with a palpable sense of joy and even playfulness. In fact, Father Martin argues compellingly, thinking about a Jesus without a sense of humor may be close to heretical.
Drawing on Scripture, sharing anecdotes from his experiences as a lifelong Catholic, a Jesuit for over twenty years, and a priest for more than ten, and including amusing and insightful sidebars, footnotes, and jokes, Father Martin illustrates how joy, humor, and laughter help us to live more spiritual lives, understand ourselves and others better, and more fully appreciate God's presence among us. Practical how-to advice helps us use humor to show our faith, embrace our humanity, put things into perspective, open our minds, speak truth, demonstrate courage, challenge power, learn hospitality, foster effective human relations, deepen our relationship with God, and ... enjoy ourselves. Inviting God to lighten our hearts, we can enjoy a little heaven on earth.
About the Author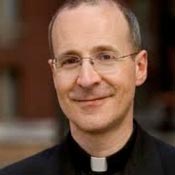 REV. JAMES MARTIN, SJ, is a Jesuit priest, culture editor of America magazine, and bestselling author of The Jesuit Guide to (Almost) Everything and My Life with the Saints. A frequent commentator in the national and international media, Father Martin has appeared in such diverse outlets as The Colbert Report, NPR's Fresh Air, The O'Reilly Factor, and PBS's Newshour, as well as in the New York Times, The Wall Street Journal, and The Huffington Post. Before entering the Jesuits in 1988, Father Martin graduated from the Wharton School of Business.
Endorsements
"Between Heaven and Mirth will make any reader smile, as Martin wonderfully writes of the joy that God gives us. Humor and laughter have an important place in the life that God desires for us all. Father Martin reminds us that happiness is God's own goal for us: to know Him, to love Him, and to serve Him in this world, and to be happy with Him forever in the next."
—the Most Reverend Timothy M. Dolan, Archbishop of New York
"Not only is this book on to something good, but it is on to something foundational. I have never met a somber believer who does much good for others in the long run. I have met joyous believers, who heal, change, and transform the world. Jim Martin will tell you why this is true!"
—Richard Rohr, OFM, author of Falling Upward
"Jim is a Jesuit priest and a funny guy. I'm grateful to know both of him."
—Stephen Colbert in USA Today
"Whether you're Catholic or Pentecostal, Buddhist or Hindu, or a stalwart atheist, Martin's hilarious Between Heaven and Mirth will infuse you with this believer's vivacity for being alive. Martin is a great spiritual teacher, and his book sanctifies the laughter we use both to praise the blessed and to endure the insufferable. A classic."
—Mary Karr, author of Lit
"Winsome and comical but also provocative and thoughtful, Martin's book is a breath of fresh air."
—Publishers Weekly (starred review)
Return to the Patheos Book Club to read daily excerpts and join a Twitter conversation on Between Heaven and Mirth!
12/1/2011 5:00:00 AM