Note: Deborah Strobin and Ilie Wacs are siblings, and this essay is based on their memoir about growing up together in Nazi Austria and the Shanghai Jewish Ghetto before escaping to America. Each writer takes turns sharing memories below.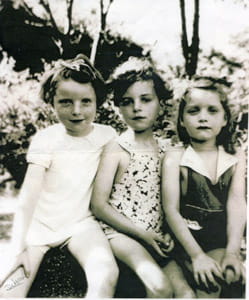 Deborah
During a brief period, 1938-1945, Shanghai was the home of a vibrant community of Jewish refugees, primarily from Nazi Germany and Nazi Austria. Eighteen thousand of us found haven there, including me and my brother, Ilie, along with our parents, who escaped the Nazis on the last boat out of Vienna.
While the rest of the civilized world deplored the persecution of the Jews, it kept its doors locked.
Shanghai was the exception. It was the only place on earth that accepted Jewish refugees without any restrictions. All that was needed was passage on a ship to China.
Even more incredible was that Shanghai was then occupied by the Japanese. Despite the hardships and deprivations they imposed both on the Chinese and the Jews who fled Nazi persecution, they did not accede to the German demands to "solve the Jewish problem."
Indeed, a microcosm of central European Jewish life managed to establish itself in this alien environment. We were the only transplanted community to survive the war intact.
After the war, like our parents, we rarely spoke about our past. Finally reaching America, we went on with our lives. We started families and pursued our passions—Ilie as a fashion designer and later an artist in Manhattan, and me as a fundraiser in San Francisco.
A few years ago, however, a visit to the Holocaust Museum in Washington, DC changed all that when we came face to face with our past as refugees. There, hanging on the museum's wall, we were shocked to discover photos of me in Shanghai as a five-year-old posing for Japanese war propaganda.
Thus began a journey of unraveling and documenting our family's 12-year odyssey of escape and survival across continents and the chaos of war through the eyes of two children.
As we put pen to paper, however, we found that our memories were often different, given our eight-year difference in age. Ilie had been a teenage boy then, full of youthful optimism and bravado, and I was a shy and impressionable young girl. Here are our recollections of Chanukah.
Ilie
Chanukah evokes memories of our mother making potato pancakes—"latkes"—during the war in Shanghai. The aroma of freshly made pancakes liberally covered with applesauce is still with me today. Somehow, our faith in Judaism was reconfirmed by eating latkes. Tradition!
I loved to draw and sketch and would often pass my time that way in the ghetto. I had memories of holidays in Vienna with family gathered and a real menorah. In the ghetto, we didn't have a menorah, so I drew a menorah and would color in the flames on each day.
Despite our differences and living on top of each other in depraved conditions, the Chinese were hospitable. There was no open animosity between the Chinese and Jews. We each had our own enemy and had suffered at their hands. There was an unspoken understanding formed from our mutual oppression that bred respect and pity between us. We were all struggling, no matter the color of our skin or language spoken.
Deborah
Some of the saddest Chanukahs we spent were in the ghetto. It wasn't anything like Vienna, where we had family (most from our mother's side) to celebrate with us in lighting the menorah and having potato latkes. But no one was with us in Shanghai. My mother's sister and her family had refused to flee with us. "Why leave Vienna just to come back again? Nothing's going to happen?"Only years later would we learn of the horrors that met she and her family at the Dachau.
Being so young during our time in the Shanghai ghetto, I didn't always understand why things were so dismal and difficult. We never had any gifts. I would go to my friend Judy's house and watch her mother and father give gifts. She also had a grandmother living with her. Since I had no extended family in the ghetto I used to imagine that she was my grandmother. I was on the outside looking in because we had nothing.
There wasn't any candy in China. On special occasions, my mother, whom I adored, would give me money to buy sweet potatoes from the street vendors who sold them in large clay pots.
I used to pick out just the right ones. That was a highlight for me. I remember carrying them home. That was the only gift that my mother permitted me to buy. That is, if you can call a sweet potato a gift.
To this day, is it any wonder that I still love sweet potatoes?
Today, the Wacs' family's all-important "papers," without which travel and even the dream of freedom were impossible, are part of the Holocaust Museum's permanent collection.
12/21/2011 5:00:00 AM