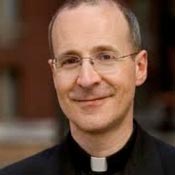 Now Featured at the Patheos Book Club
Between Heaven and Mirth
Why Joy, Humor, and Laughter Are at the Heart of the Spiritual Life
By James Martin, SJ
Speaking Schedule
2011
Dec. 1 Boston College, Chestnut Hill, MA
Dec. 16 St. Philip Neri Parish, Lafayette Hill, PA
2012
Feb. 3-4: Seattle University/Writers' Festival, Seattle Washington
Feb. 22: Fordham University
Feb. 26: Ancient Order of Hibernians Breakfast, Dunwoodie, NY
Feb. 29; New York City
Mar. 4: Franciscan Spiritual Center, Aston, Pa.
Mar. 9: Mid-Atlantic Conference, Baltimore, Md.
Mar. 10: Mens Conference, Newark, NJ
Mar. 23-25: Los Angeles Religious Education Congress, Anaheim
Apr. 21: Catechetical Conference, Springfield, Mass.
Apr. 26: Catechetical Conference Lodi, NJ
May 3: Loyola House of Retreats, Morristown, NJ
May 14: Catechetical Conference, Albany, NY
May 19: St. Louis University Commencement
May 20: Immaculata University Commencement, Immaculata, PA
June 3: Fairfield Prep Commencement, Fairfield, CT
July 9-13 Boston College School of Theology and Ministry Summer Program Class
July 14: Boston College Underhill Lecture in Spirituality:
July 23: New England Superintendents Meeting, Norwich, Ct.
Aug. 3: Conference of Major Superiors of Men, Dallas, TX
Sept. 20: Our Lady of Sorrows-St. Anthony, Hamilton, NJ
Dec. 14-16: Eastern Point Retreat House, Gloucester, Mass. "Praying During Advent"
Return to the Patheos Book Club to read daily excerpts from the book and join a Twitter conversation on Between Heaven and Mirth!
12/1/2011 5:00:00 AM