NOTE: Born in Austria, Francis X. Weininger (1805-1888) was ordained a diocesan priest and later joined the Jesuits. After teaching college, he came to the United States as a mission preacher. He became one of the foremost preachers in nineteenth century Catholic America. His sermons were published in numerous volumes. What follows is a Christmas sermon taken from Original, Short and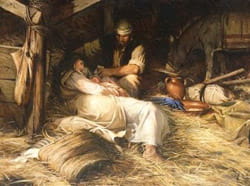 Practical Sermons for Every Feast of the Ecclesiastical Year (Cincinatti: C.J.H. Lowen, 1882).
The joyous feast of the nativity of Jesus Christ reminds us of the greatest of divine deeds; namely, the entrance of the Creator into the world which He created, which He wished to reconcile to Himself by the incarnation of the Son of God, and thus at the same time redeem the fallen race of man. 4,000 years were consumed in this preparation, and still when He, whom Jacob had designated "the desire of the eternal hills," really came, the world did not receive its Redeemer and Deliverer. "He came into His own, and His own received Him not." And even as regards the children of the Church, how many of them might be reproached with these same words. And why? To this I will reply today. I speak in the holy name of Jesus, to the greater honor of God!
"He came into His own, and His own received Him not," said the evangelist. Alas! it was so, it is so at present, and will probably remain so. Christ enters this world, and Bethlehem bars its gates.
The human heart can be compared to an inn filled with guests, from which resound the words: "There is no room here for you! Pass on!" Its door is constantly open, with a continual coming and going, and the character of the guests isn't investigated. It is no place for prayer, or the fulfillment of one's religious duties; we find tumult and restlessness. Thus it is with the heart of him who leads a life in compliance with the spirit of the world. Such a heart is open to all that passes; all sorts of inordinate desires find their way into it, so that there is no room for Jesus to find therein a permanent abode.
But certainly this does not hinder the Infant Jesus from again knocking. He knocks repeatedly, and exclaims: "Open your heart!" "Who are you, and what do you wish?" is the question from within. Jesus replies: "Look at me, lying in a poor manger in a stable. I have come to disengage your heart from love of riches, to teach you the love and practice of the virtue of poverty." The worldling answers: "Go, there is no room here for you." Could a different answer be expected? The worldling's love is centered on his money, his attention on the increase of his possessions. What a multitude of thoughts, desires, plans, and projects keep him busy! There is no vacant spot for the poor Infant Jesus.
Jesus knocks at the heart of the worldling. "What do you wish?" "Open thy heart, that I may make my home with thee. I would like to teach you to love and practise the virtue of humility." But the worldling wishes to hear nothing of humility; his heart is filled with a longing for esteem and glory, with self-praise, self-will, and self-love. What a tumult reigns in such a heart! Innumerable thoughts of vain desires, of vain ambition come and go. No room for you, says the deluded worldling; pass on!
Jesus knocks at the door of the heart. "What do you wish?" "Open; let me in. I will teach you to despise all sensual, worldly pleasures, and to practice the spirit of self-denial; to mortify yourself, and to bear with patience all your trials and tribulations. I wish to replenish your heart with a true love of the cross." "Depart as quickly as possible," says the terrified worldling from behind the door of his heart; "no room for you!"
The Infant Jesus again knocks. "Open your heart." "What do you desire?" "Allow me to enter. I will teach you to love retirement, to practise prayer, and thus to live on earth as if you were already in heaven, eternally united with Me." "No room for you; begone!" resounds from the inn of the human heart. It is only fond of intercourse with men; it is full of human respect, full of the fear of man.
Finally, the Infant Jesus raps at the door of the heart. "Open" "What do you wish?" "I desire you to assist Me in spreading My kingdom on earth; to convert sinners; to win souls." "Pass on," is the answer. "Why should I trouble myself about others? I am no priest." It makes very little difference to the lukewarm Christian whether others are treading the path of salvation; he may even go so far as to say all religions are alike; let each one believe what he chooses. Poor heart! Certainly, Jesus will leave you. But no, Infant Jesus, do not depart! See, we open to Thee our hearts; enter, and take up Thy abode therein, until the gates of heaven open for us, and we make our home with Thee amid the rejoicings of the blessed for ever and for ever! Amen!
12/20/2011 5:00:00 AM