Editor's Note: This is the third in a weekly series of Advent Meditations on the theme of "waiting" by blogger David Henson. Read his first meditationhereand the second here.
Third Sunday of Advent
Psalm 126
When the Lord restored the fortunes of Zion, we were like those who dream.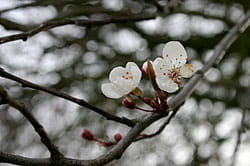 I have resisted hope.
I have refused to dream dreams or see visions of a better world.
I am no longer sure if all things will work together for good, especially for those that love the Lord.
It all started as a self-inflicted coping mechanism that I developed as a journalist, a professional witness to tragedy. I learned to resist hope when I crossed the yellow tape and saw the brutality of life in ways our society attempts to carefully conceal from the public eye with cordoned-off crime scenes, body bags, and the euphemistic language of death. I learned to resist hope when I watched rescue workers drag three lifeless, water-logged teenaged bodies from an overturned vehicle still half-submerged in the icy waters of a marsh. I learned to resist hope when, for weeks, I kept seeing their ghostly faces, blue with frothy terror clinging to their chins, every time I closed my eyes.
I learned to resist hope when I stood beside a weeping elderly couple embracing each other while their home burned to ash for a second time in their lives. This had been their fresh start, a home to put the last fiery tragedy behind them once and for all, except the flames and tragedy had followed them.
I learned to resist hope when I watched grieving parents thumb through their memories of children who would never return home alive from the battlefield.
Set against all this suffering and more, hope became little more than a vanity of vanities, a chasing after an indifferent wind that blows whichever way it chooses, cutting to the bone the righteous and unrighteous equally. I resisted hope even more when I heard my friends discuss their hope in God's continuing advent in the most meaningless terms -- of the miraculous locating of lost keys before an important appointment or the God-with-us moment of finding a parking space close to the entrance of a busy mall during Christmas shopping season. All the while, Christ seemed to never show up when folks needed help most.
So, I resisted. I was a conscientious objector to the notion that God came to the aid of those searching for keys to the car but remained absent in the face of tragedy. To do otherwise, I thought, would be to affirm a God with either a pathologically skewed moral compass or a palliative God fabricated by uncritical minds who believe that all things happen to the glory of God, including the fatal brain tumor of a small child, including the drowning of a teenager in a marshy slough, including the loss of a home, including crippling poverty and hunger.
I resisted hope because I did not know that for Christians hope is not intended to be some facile disposition of optimistic belief in the future but a self-emptying spiritual practice to develop. And I had no know idea how to develop this practice of hope.
It reminds me of Voltaire's Candide, a story about a naively hopeful young man who maintains, despite terrible hyperbolic tragedies befalling everyone he loves, that he still lives in the best of all possible worlds, and that, as a result, all events must be for the best in the best of all possible worlds. His circular optimism, set against the sorrow in the book, is grating, and even reluctant readers meet with relief and applause Candide's eventual loss of hope in the idea that the God-made world is the best of all possible worlds.
And, so here I am in the season of Advent, which calls Christians to be hopeful, to expect the return of God to a world overflowing with anguish. Most days, as much as I may want, I simply can't bring myself to believe, hoping against hope, that there is a day coming when, as the prophet Isaiah proclaims, there will be good news for the poor, hungry, and oppressed; liberty for the captives; comfort for those in mourning; an exchange of grief for a garland, a dirge for a dance; and a time when broken souls, like mine, will be bound up, stitched back together, renewed with hope, filled with dreams to dream and visions to see.
12/5/2011 5:00:00 AM