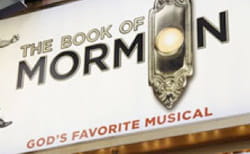 Editor's Note: This is the first in a series of essays that examines the real world of Mormon missionaries and the real Elder Price. Read the author's Introduction.
Total time from the wheels leaving the runway in Salt Lake City to touchdown in Douala, Cameroon: 23 hours 15 minutes and 9 seconds. Not too bad, but definitely tiring.
Thus wrote Elder Brandon Price of his flight to Africa.
The arrival in Douala was the biggest shock of my life. When I walked out of the plane, I was drenched with pure humidity. It is really hot."
Since he arrived on Thanksgiving Day, the senior couple (the Bakers) had prepared a Thanksgiving feast for him and the other missionaries, and so he had a pleasant culinary welcome. Such was not the case for other missionaries. Elder Jared Wigginton described some of his early meals vividly: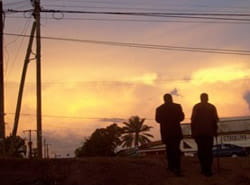 Missionaries at sunset
The food is hard on my stomach and literally hard to swallow. I have tried to be a good sport, but I could not swallow the cow skin. I was, however, able to swallow monkey and its skin yesterday, and now I am sick with fever and a pounding stomach ache. My first day here, I accidently put a chicken head on my plate. Needless to say, it is a delicacy and it would have looked really bad if I did not eat it. Fortunately, Elder Anderson, whose praises will be sung by my posterity for generations to come, switched his chicken neck with my head without anyone seeing. As he bit through the skull, brain juices flooded down his mouth, I shuddered and sang for joy at the same time.
Yet, being deprived of American food for so long and being hungry from the hours and hours of marching in the blazing heat, I actually have not turned down a meal. Strangely, fish heads in peanut sauce with rice is not so bad; couscous with gumbo is appealing; and manioc with green-mushy-i-do-not-know-what-you-are-made-of is delicious. If the fact that I can eat this food is not evidence of the Lord's blessings, I do not know what is.
Regardless of what the missionaries ate for their first meals in Africa, the work expected of them was the same: They would walk, talk to potential converts and LDS members, do service projects, and teach.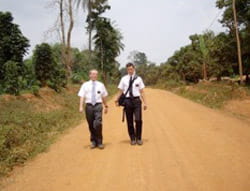 Elder Brandon Price and Elder Lyle Parsons walking
In the heat and humidity, to which the Anglo missionaries are so unaccustomed, the reality of missionary work can be overwhelming. They learn quickly that they have lived in luxury for all of their lives, and things they take for granted (carpeting, dependable electricity, clean water) are rare in Africa. Spiders as big as a toddler's hand periodically scramble up the walls, and the missionaries' beds are surrounded by nets to protect them from malaria-bearing mosquitoes.
The whole experience can bring even an Eagle Scout to his knees.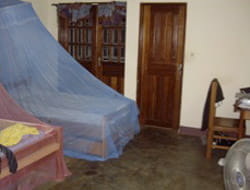 Mosquito net
Elder Kendell Coburn, who arrived in Africa three months after Elder Price, found himself praying in the apartment's little kitchen early in his mission:
I was thousands of miles away from home, homesick, unable to express myself in French, starving (I didn't dare eat anything), and stressed. I decided to pray. In the tiny kitchen I said my prayer and all doubt left. An overwhelming peace replaced it. It was reaffirmed to me that the gospel was true and that I needed to stay, that I would cherish my mission, influence very many people, and would one day miss it.
Elder Price's first week as a missionary in Africa was typical:
There aren't addresses or roads in the slums where we teach, just narrow dirt paths and open sewers. I've forgotten all the French I learned and I am a little shell-shocked. And I walked. A lot. I had to have walked at least thirty miles this past week. My calves are looking killer. And really, really white.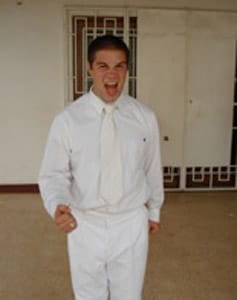 Elder Kendell Coburn
12/12/2011 5:00:00 AM