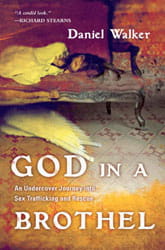 According to the U.S. State Department, human trafficking is one of the greatest human rights challenges of this century, both in the United States and around the world. Researchers estimate that more than 80 percent of trafficking victims are women and over 50 percent of human trafficking victims are children. Author Daniel Walker brings these devastating statistics to bear in real life though his memoir, God in a Brothel: An Undercover Journey into Sex Trafficking and Rescue.
Walker details the four years he spent working undercover in more than a dozen countries documenting cases of human trafficking on behalf of two unnamed international organizations. His account is also a compelling story of his own faith journey, offering a unique perspective from his years battling the sex industry. Stories of high-stakes rescue and exposure to many dangerous situations thread throughout this piece, as does Walker's inner struggle with the realities and temptations associated with being an undercover agent. Ultimately, Walker's efforts resulted in the rescue of many hundreds of women and children as well as the successful prosecution of traffickers. The challenges he details leave the reader disturbed yet determined to do more for those who are enduring such extreme suffering on a daily basis.
Most provocative about God in a Brothel is Walker's challenge for all Christians, regardless of theological or political affiliation, to care deeply and to risk doing something bold to end human trafficking. While Walker views his work through an evangelical lens, he recognizes the urgency of ecumenical cooperation on this issue, "To effectively combat this most horrific form of modern day slavery, it requires every expression and every gift the church has. We need each and every denomination; we need evangelical Christians to set people free and to realign their allegiance; we need the Pentecostals to come with their message of liberation and healing; we need the Catholics with their rich history; we need the progressive Christians with their understanding of social justice. It requires the whole church. Regardless of where you are on the religious, political, social, economic spectrum, the core message of the Bible is to help people find hope and freedom. Christians may disagree on many things, but we can all agree that women and children were not created for slavery."
Walker believes human trafficking is the most important social justice issue of our time—one that has tremendous potential to unite non-denominational, evangelical, and mainline progressive Christians across the globe. In Chapter 9 of God in a Brothel, Walker tells the story of two sisters who, to this day, remain burned into his memory. Lan and Milan were only 5 and 7 years old when their aunt and uncle began profiteering from their sale. Walker knew that if he did not save them, no one would. Ultimately, the raid on their particular brothel went awry, costing Walker many of the children he intended to save, including Lan and Milan. Walker believes that Lan and Milan's story—and the fact that they are most likely still out there somewhere, lost in a world of sexual violence—has the power to transcend theological difference.
Sex trafficking is a human rights catastrophe at both the global and the local levels and requires the advocacy of people of all faiths if there is to be a tipping point on this issue. Progressives have been active on the issue for many years, though non-denominational evangelicals have more recently been leading some impressive efforts through the Not for Sale, Love146, and Traffick 911 campaigns. Even secular organizations such as Free the Slaves recognize the potential of uniting a diverse religious base, providing anti-slavery texts from Christian, Muslim, Hindu, Buddhist, and Jewish traditions. All faiths speak out against slavery, and lift up the dignity of all human beings. It is best for Christians of diverse traditions to find ways to work together on this issue, not only for the protection of victims, but to grow in our own theological and ecumenical relationships.
12/13/2011 5:00:00 AM