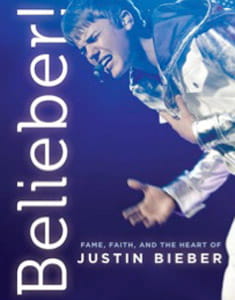 Any Christian who attends to popular culture knows that Justin Bieber is a phenomenon unique to the current teen generation: a social media-created super star. The teen's rise to fame began with a couple of videos his mother uploaded to YouTube, and his fans primarily relate to him through Facebook and Twitter. But what many adults may not know is that Justin is also a devoted Christian and has used his fame to give back to a number of charitable causes. In her new book, Belieber! Fame, Faith, and the Heart of Justin Bieber, award-winning religion journalist and author Cathleen Falsani explores Bieber's faith, family life, and the impact the singer is having on a generation of teens. I invited Falsani to share her thoughts on the origins of the book and what attracted a 40-something mom to want to write about the newest pop idol.
What prompted you to write this book and whom do you see as its primary audience?
Well, one afternoon early last March, I was having lunch with one of my closest friends in Laguna Beach, California, where we both live, and were chatting about several book ideas I was noodling at the time. I'd had a book come out in 2009 call The Dude Abides: The Gospel According to the Coen Brothers, which I enjoyed creating and my friend said (jokingly, I thought at first), "You should write a book called 'The Gospel According to Justin Bieber." And I laughed. But he said, "I think I'm serious."
We began talking about Justin, whose music we weren't fans of but who was intriguing as a popular culture figure because of his unbelievable success and passionate fan base. What was it about this kid that made his fans so devoted and protective of him? I love writing about music, as it is a place from which I derive a lot of inspiration spiritually and has had, through the years, a powerful influence in my own life. The idea of exploring Justin's story and his appeal and --based in part on an interview I'd just read with him in Rolling Stone, in which he spoke so eloquently (and, to my ear, genuinely) about his Christian faith—was terribly intriguing. And the new challenge of writing for a largely younger audience—teens, tweens and their parents, youth workers, pastors, teachers, etc.—was one that I thought would be fascinating and stretch me as a writer and cultural critic. By the time we'd finished our lunch, I'd already sent my literary agent a text telling him about the Bieber idea. Two weeks later, I had a book contract.
In the book, I say to grown-ups that they should pay closer attention to the things that their children—or the kids in their life that they care about—are passionate about because sometimes they speak to the orientation of a child's heart and spirit. We never know how the seeds planted in the heart of a child will grow. It's advice I've tried intentionally to heed in my own life, with my son and other children I love, and hope that others also will take the time to do so.
What are some things about Justin that you think people will be surprised to learn from your book?
As I started my exhaustive research into Justin's life and work, I was not expecting to find God's fingerprints so obviously and indelibly imprinted on Justin's story the way they were and continue to be. It would be difficult to know all that I do about his life and not see God's obvious direction and divine favor in it. I think that also surprises a lot of the book's readers, as does the extent to which Justin, even as a younger teenager, has been devoted to charitable work. It really is one of the hallmarks of his public life and career, and, I would say, the most eloquent articulation of his faith.
Justin is deeply committed to giving back—"paying it forward," as he would say—and taking concrete actions to try to make the world a better place. He constantly encourages his fans and Twitter followers to do the same. It's well known in the business that Justin won't do any new "deal" without a significant charitable component built in. For instance, proceeds of his fragrance, Someday, went to charity, as did the proceeds from his acoustic and Christmas albums. He gives a dollar from every concert ticket he sells (millions, now) to Pencils of Promise, an NGO that builds schools in some of the poorest places in the developing world. There are other celebrities who are known for their charitable efforts and social justice work— Bono, whose own story and faith mirrors Justin's in many ways, comes to mind—but I'd dare say none as young as Bieber or who have been doing so as extensively as he has since the very beginning of his career. Justin not only talks the talk (and in a way that is nuanced and refreshingly honest for an evangelical Christian kid) but he walks the walk boldly and publicly. His fans see this and are following his example. It's pretty extraordinary.
1/27/2012 5:00:00 AM