Note: Lisa Mladinich delivered this eulogy to honor her father at his Mass of Christian burial at St. Christopher's Catholic Church in Tiverton, RI, Friday, January 20, 2012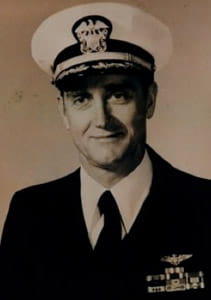 Having lived his whole life in the Church, and having served for decades in this parish, there is nothing my father would like better than to see all of you here together. I believe, as many of you do, that it matters that we do this and that it's a help to his immortal soul. So, thank you.
Most of you know my dad very well and know everything I'm about to say. There won't be any surprises. There were no scandals, no mysteries, no falls from grace, because Robert Kirkwood was simply a good man. And I'm very proud to be his daughter.
He came from what most would consider humble beginnings. But those of us who knew his struggling, single mother, Irene, knew that his exemplary life sprang from strangely privileged roots. His mother was a titan of persevering faith, joi de vivre, and all the right kinds of ambitions. She taught her kids that faith and family were first, and that it was good to work hard, and to dream.
The second of three children, Robert Liston Kirkwood, was born May 26, 1931, in Fall River, Massachusetts. An intelligent kid, by the time he reached his teenage years, he had nevertheless had it with high school. But he read stacks of adventure novels, borrowed from the library every week and filled his imagination with sailing ships, explorers, and cowboys.
Longing to see the world, he dropped out of school and ran off to join the Navy. He was flatfooted, and he had to curl up his toes to pass the medical exam. The gangly boy recruit was molded with infinite care into a proper Navy seaman - one who ached with homesickness and wrote affectionate letters to his mother and sisters, and later, to his beautiful Barbara May.
Years passed, and he married his sweetheart, got his GED, produced two sons and four daughters, went to college, became an officer, and finally a jet pilot who distinguished himself in combat during the Viet Nam war.
He was decorated with the Navy's Silver Star and caught the attention of aviation historians when he downed a Russian Mig 17—not with the F-8 Crusader's guided missiles, but using only the guns mounted on the nose of his plane. (He never trusted the guided missal system - it was too complicated—and it did in fact fail.) He told us he was profoundly relieved when he saw the North Vietnamese pilot parachute free of the wreckage.
Dad was remarkable in many ways, perhaps especially in his contradictions. He had a typically careful and meticulous Scottish temperance where morals and money were concerned, but a perfectly lavish French temper. He was a perfect gentleman, and a worrywart, who planned contingencies and warned us of the many dangers in life.
Yet he was an energetic and enthusiastic adventure leader, packing up his wife and six children to hike, camp, sail, and explore—through the redwoods of California, the deserts of the South West, the mountains of Tennessee and Maine, the islands of New England, and beyond. We all carry in our hearts indelible images of some of the most beautiful places in the U.S.
In 1980, using only celestial navigation, he and Mom sailed to Bermuda and back—about 1400 miles round-trip in the open ocean, where anything truly can happen. I give my mom a huge amount of credit for that one. But she always supported the fulfillment of his dreams. They had a wonderful time.
I think it was more than a love of the natural world that drove my dad into the wilderness. And I think I know why he wanted to share it all with the people he loved. I think he craved these experiences because they were holy and life-giving. That he sensed in the wildness of open spaces the tender closeness of God.
I think. He's probably rolling his eyes at me right now.
My dad was somewhat shy, but had a great sense of humor and loved it when we told jokes around the dinner table. I never felt prouder than when I made my dad laugh. His eyes would crinkle up so he could hardly see, and he'd throw his head back and quietly belly laugh.
He was never someone with what I would call "the gift of gab," but he was a natural teacher. Sometimes, when he was relaxed at home, he would speak in a captivating and inspiring way about history, religion, science—whatever he'd been reading or thinking about that he thought might benefit his kids.
1/25/2012 5:00:00 AM