"I have no need of friendship; friendship causes pain.
It's laughter and it's loving I disdain.
I am a rock, I am an island."
—Paul Simon, I am a Rock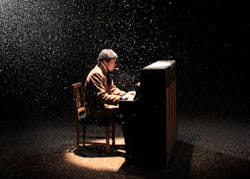 One would be forgiven for assuming that the Octave of Christmas is "Wall-to-Wall Christ Child," a time focused exclusively on the extraordinary moment when the Incarnate Word was first revealed to Mankind. Yet the Church herself has broken into the Octave with two feasts which are a bit less exclusively Christ-centric than an outsider might have expected: the Feast of the Holy Family, and the Feast of Mary, Mother of God. Is this simply a result of "too many feasts; too little time?" Or is the Church's decision to focus our attention on Christ's dependence even as we welcome him to Earth for the first time an intentional one? Perhaps it is a calculated reminder that no man is an island. Not even He who became Man for our sake.
The Piano in a Factory (Gang de qin), a 2010 comedy-drama from the Chinese director Zhang Meng, is a light-hearted, quirky look of that very issue—with the Christ Child left out, of course. Set in the 1990s, the film follows Chen Guilin, an unemployed steelworker who ekes out a modest living as an earnest-but-indifferent accordionist. When his estranged wife shows up demanding a divorce, Guilin is relieved, until the wife insists on taking their daughter with her. Convinced that his daughter—as earnest and indifferent a pianist as her father is an accordionist—will stay with him only if he can assure her a real-life piano, Guilin determines to procure himself such a regal instrument, no matter the cost.
When efforts to sponge the funds from his circle of impoverished friends fall flat, Guilin turns to crime. One alcohol-fueled heist attempt later (complete with a hangover-laden night at the local police station), he settles upon an impossible scheme: he will build his own piano with the "expert" help of his rag-tag friends—a motley crowd of laid-off industrial workers, ex-cons and struggling businessmen who have little in common other than the crushing weight of personal and social failure.
Given the golden opportunity to do something worthwhile, the group responds with enthusiasm, but will the completion of this piano be the catalyst that rekindles the hopes of its many creators, or will it be yet another failure, weighing down upon an already-demoralized group?
More importantly, will Guilin recognize the extraordinary outpouring of love and friendship on the part of his companions, or will he continue to stubbornly pursue the path of self-centeredness that led to his predicament in the first place?
At first the film's symbolism seems almost too direct: a piano is made up of many diverse yet interconnected parts that rely on one another for success, just as Guilin's kaleidoscopic entourage must rely on one another in their quest. But the message of the film is worth being direct about: friendship and family are of incalculable importance in our lives, and we ignore that truth at the risk of our very humanity.
We Christians cannot overstate the importance of our relationship to God; it is he who knows us in our mother's womb; he who calls us by name; he who gifts our being with potential. Yet at the same time, even God does not consider us independent of our human relationships, but in our totality within them. I am not only "Joseph," I am also "Dominic's father." And that paternal relationship profoundly influences us both. At the Final Judgment, I will be called to answer not only for my own life, but for the impact I have had on the lives of my children.
If anyone could be expected to distance themselves from fallen human beings, it would be Christ. When Godhead speaks to Godhead, are other, lesser voices really necessary? Yet the Feast of the Holy Family and that of Mary, Mother of God, coming within the Octave of Christmas—falling hard upon the staggering realization that the Creator has condescended to be born of his creature—remind us that even the most powerful, most independent, most perfect of all human beings did not see isolation as an ideal, or something to be sought after. He did not spring suddenly among us, perfect, as did Athena. Nor did he choose to be raised by Nature's instruments, like the legendary Enkidu or Atalanta. Instead, he chose to be part of a human family—an incredibly impressive, unduplicated human family, to be sure; but a human family none the less. He chose messy interconnection. He chose intimacy.
1/10/2012 5:00:00 AM