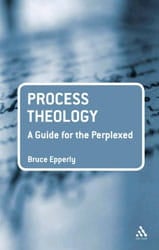 Process Theology: A Guide for the Perplexed, by acclaimed theologian Bruce Epperly, is an introduction to process theology for laypeople, students, pastors, and theologians. Described by Philip Clayton, Professor of Theology at Claremont School of Theology, as "perhaps the best in-depth introduction to process theology available for non-specialists," Dr. Epperly focuses on the resources of process theology for understanding God, Christ, ethics, health and healing, spirituality, faith and science, human existence, and survival after death.
Grounded in the thought of Alfred North Whitehead and Charles Hartshorne, process theology focuses on God's nature as relational, open-ended, loving, and constantly evolving in relationship to the world. In contrast to Rick Warren's image of an omnipotent God who decides all of the important events of our lives without our input, process theology affirms the reality of human freedom and creativity.
According to process theology, the future is open for God as well as us. God does not control our lives, but provides possibilities that encourage us to be active partners with God in healing the earth.
About the Author
1/3/2012 5:00:00 AM