Editor's Note: This is the last in a series of essays that examines the real world of Mormon missionaries and the real Elder Price. Read the author's Introduction.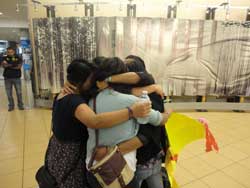 The Acorda family embracing Lowell
The Book of Mormon Musical endswith a reprise of the "Hello" song, but now it's the African converts practicing their door approaches. In the show's final twist, they hold up their books. The audience gets a surprise when the actors reveal the title—not The Book of Mormon, but The Book of Arnold. Yes, Elder Arnold Cunningham's "metaphorical" tales have apparently been compiled by the missionaries, who have defied their despotic mission president and remained in Uganda as renegades.
The actors take their bows, and the audience applauds.
Elder Brandon Price, the "real" Elder Price in this series, knows what it's like to take a bow after a show, since he is a theater major, but also what it's like to be a Mormon missionary. These are his reflections:
I think that it took me a while to realize that I was trying so hard to act like a missionary that I wasn't able to BE the Elder Price that I could be. I think it takes all young missionaries a little while to realize the power of their calling and that it is happening for real. You grow up looking forward to it all your life, then it comes and it's TOTALLY different than anything you ever imagined. It's almost unreal, and it takes a little while to stop acting like a missionary and instead start being a missionary. Acting like a missionary isn't a bad thing; I think it's a necessary step in self-discovery. But, there is a magical point in a mission where things become so much more rewarding as the missionary gets a greater understanding of the eternal nature of the work.
As an actor, I really enjoy making up a character and putting on a show, but never has a character influenced and changed my life for the better than the role of a missionary did. I don't think any role could, because they are simply the creations of man's imagination. However, just as the Plan of Salvation has been created by the perfect mercy of our Heavenly Father, each righteous role we 'play' here on earth has the power to expand our knowledge and to help us understand more about our divine nature.
Elder Brandon Price returned to Utah from his mission in September 2010.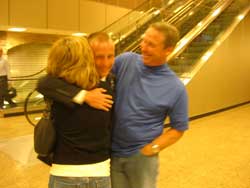 Elder Price comes home
In their final emails from Africa, the DRC-Kinshasa missionaries wrote about the whole of their experience. Both Elder Lee and Elder Wigginton mentioned that the work would go on after they left; they had planted seeds that others would harvest.
Jared Wigginton:
My time here is wrapping up. I have been fading out and new elders have been stepping up to the plate. This work will continue without me. It has changed me and been a great blessing.
Jared returned to Orange County, California, and started law school a few months later. He got married in May 2011.
Seth Lee:
This week was special to me. It started on a very high note with our baptism service on Saturday. The service went great. One of our baptisees, sister Aude, was accompanied by her recent convert husband Rostand who was looking like a stud in his policeman uniform. It was really sweet to see the love the gospel can create and nourish in families. Another of our baptisees, sister Light, was being baptized by her recent convert father. The power of godliness was manifest during those priesthood ordinances. The last person I confirmed on my mission was Light. She is about 14 and loves to study the scriptures. Blessing her was a great experience. The words I needed to say were given to me. Last week I related an experience in contacting a lady named Colette. She has been prepared for the gospel, and it hurts a little that I won't get to teach her, but the missionaries here will do great things with her. I have all the confidence in the world that I will hear one day about her baptism.
Seth returned to Seattle, and subsequently resumed his education at BYU-Idaho.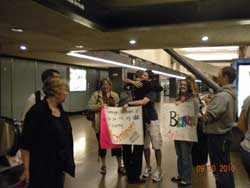 Seth Lee returning
1/3/2012 5:00:00 AM