Now Featured at the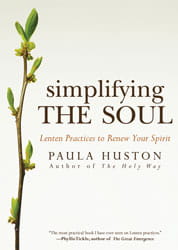 Patheos Book Club
Simplifying the Soul
Lenten Practices to Renew Your Spirit
By Paula Huston
Award-winning author and Benedictine oblate Paula Huston invites readers to de-clutter their minds, hearts, relationships, and souls in a book of daily Lenten practices woven from the gospels, the Desert Fathers, and the author's own wealth of spiritual experience.
"What are you giving up for Lent this year?" It's the expected question amongst Christian friends each spring. In Simplifying the Soul, Paula Huston asks her readers a deeper, alternative sort of question: "How will you rid your life of excess this Lent?" Huston encourages readers to see Lent as a time to seek out silence and free themselves of "stuff"; to de-clutter minds, hearts, and lives; and to acknowledge the connections between what they pray about and what they do.
With honesty, vulnerability, and grace, Huston challenges readers to move outward and act, showing them how everyday actions like cleaning out a junk drawer, giving awaysomething no longer used, or spending fifteen minutes in silence can be surprisingly powerful ways of experiencing a more meaningful Lent and a simpler life. Whether cutting up a credit card, visiting someone at the hospital, or forgiving someone with whom they are angry, readers experience, under Huston's gentle and expert care, how such practices lead to a more authentic Christian faith.
About the Author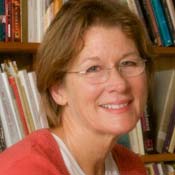 Paula Huston, a National Endowment for the Arts fellow, wrote literary fiction for more than twenty years before shifting her focus to spirituality. She taught writing and literature at Cal Poly San Luis Obispo and served as a core faculty member of the California State University Consortium Master of Fine Arts in Creative Writing program for many years before leaving academia to write full time.
Her first non-fiction project, Signatures of Grace, with co-editor Thomas Grady, earned a starred review from Publishers Weekly. Her book The Holy Way was a Catholic Press Association award-winner and Catholic Book Club major selection, earned a starred review from Publishers Weekly and a bronze medal from Foreword Magazine for Book of the Year in Religion. Huston has also published By Way of Grace and Forgiveness: Following Jesus into Radical Loving. A Camaldolese Benedictine oblate, Huston is married, has four grown children, and lives in central California. Visit her website at www.paulahuston.com.
ENDORSEMENTS
Paula Huston's new book is very much like the author herself: wise, compassionate, patient, friendly, inviting. Her warm and personal series meditations will surely draw you more deeply into the great mystery of Lent. Too often thought of as simply a season of sacrifice, Lent is revealed here as something far richer—a privileged time to experience God in your everyday life, to open yourself to conversion, and to savor God's transforming love.
James Martin, S.J.
Author of The Jesuit Guide to (Almost) Everything
By pairing enlightened meditations with practical disciplines, Paula leads us to a renewed soul, space for a deeper relationship with Christ, and inner room to revel in the promises of Easter. Simply beautiful!
Lisa M. Hendey
Author of The Handbook for Catholic Moms
This is the most moving, most appealing, and, at the same time, most practical book I have ever seen on Lenten practices. It is a verbal retreat that invites both the soul and the body to a holy re-tooling.
Phyllis Tickle
Author of The Great Emergence
Other Books By Paula Huston
The Holy Way: Practices for a Simple Life (Loyola, 2003, ISBN: 9780829414417, $15.95, paperback, 11,300 copies sold)
Forgiveness: Following Jesus into Radical Loving (Paraclete Press, 2008, ISBN: 9781557255709, $16.99, paperback, 2,544 copies sold)
By Way of Grace: Moving from Faithfulness to Holiness (Loyola, 2007, ISBN: 9780829423310, $19.95, hardcover, 3,700 copies sold)
Signatures of Grace: Catholic Writers on the Sacraments, Paula Huston and Thomas Grady, Editors (Dutton Adult, 2000, ISBN: 9780525945338, $23.95, hardcover, 10,000 copies sold)
1/16/2012 5:00:00 AM