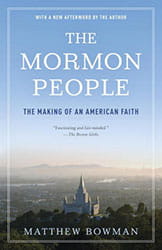 Matthew Bowman, The Mormon People: The Making of an American Faith
With Mormonism on the nation's radar as never before, religious historian Matthew Bowman's book pulls back the curtain on more than 180 years of Mormon history and doctrine. He recounts the church's origins and explains how the Mormon vision has evolved. The Mormon People is a frank and balanced demystification of a faith that remains a mystery for many.

Joanna Brooks, The Book of Mormon Girl
The Book of Mormon Girl is a story about leaving behind the innocence of childhood belief and embracing the complications and heartbreaks that come to every adult life of faith. Brooks' journey explores a side of the religion that is rarely put on display: its humanity, its tenderness, its humor, its internal struggles.

Terryl & Fiona Givens, The God Who Weeps
By weaving together insights from scripture and literature, theology and philosophy, Terryl and Fiona Givens bring new depth to the fundamentals of their faith. The authors share five fundamental truths about the universe that their Mormon faith has taught them.

Terryl Givens, The Book of Mormon: A Very Short Introduction
Givens examines the Book of Mormon first and foremost in terms of the claims that its narrators make for its historical genesis, its purpose as a sacred text, and its meaning for an audience which shifts over the course of the history it unfolds.

Grant Hardy, The Book of Mormon: A Reader's Edition
First published in 1830, the Book of Mormon is one of the most significant documents in American religious history. Grant Hardy's new "Reader's Edition" has reformatted the complete, unchanged 1920 text in the manner of modern translations of the Bible. The editorial aids and footnotes in this edition provide readers with a clear guide through this complicated text. New readers will find the story accessible and intelligible; Mormons will gain fresh insights from familiar verses seen in a broader narrative context.

The Book of Mormon (Penguin Classics edition)
The Book of Mormon is one of the most influential and controversial religious documents in American history, and is regarded as sacred scripture by members of the Church of Jesus Christ of Latter-day Saints, the fourth-largest religious body in the United States. This Penguin Classics edition contains the full-length text currently used by the LDS Church, with a detailed and insightful introductory essay by religious studies scholar Laurie Maffly-Kipp.

jpg" style="float: right; margin: 4px 8px;">Jana Riess & Christopher Bigelow, Mormonism for Dummies
Mormonism, or the LDS Church, is one of the world's fastest growing religions. But unless you were raised a Mormon, you probably don't have a clear picture of LDS beliefs and practices. Covering everything from Joseph Smith and the Book of Mormon to tithing and family home evening, this friendly guide will get you up to speed in no time.
:::page break:::
9/20/2013 4:00:00 AM